Postcard from New York: Part I
A friend of ours has successfully dabbled in paintings by Jean-Michel Basquiat so when we saw there was a new exhibition, Jean-Michael Basquiat: King Pleasure©, assembled by his family which reveals the creative evolution of the artist, we booked tickets.
The popular mythology surrounding Basquiat's journey, from couch-hopping graffiti artist to the centre of New York's surging 1980s art scene, was cemented tragically by his death in 1988 at the age of 27 from a drug overdose.
This exhibition shows another aspect of the Basquiat narrative. It proves that his talent was not just prodigious but also recognised and even cultivated by the people closest to him early on.
The show was assembled by his younger sisters, Lisane Basquiat and Jeanine Heriveaux, who are co-administrators of his estate, along with their stepmother, Nora Fitzpatrick. More than 200 paintings and drawings from their private collection are on view – many previously unseen – alongside a selection of photographs, personal artifacts, and multimedia presentations, including full-scale re-creations of the Basquiat family living and dining rooms. It's also the first exhibition overseen by the Basquiat family.
King Pleasure© covers the course of Basquiat's storied career and short life as well as offering a personal reflection on his legacy through the eyes of his siblings. By revealing an unprecedented window into his formative years, the show also aims to upend the long-standing racial stereotypes that have frequently clouded his work and reveal the central role that his Puerto Rican and Haitian heritage and relationship with his Black family played in nurturing his creativity.
I hadn't appreciated that Basquiat was so prolific. It is estimated that he left behind nearly 2,000 completed works at the time of his death. By then, he was already an established presence in the booming art market of the 1980s, having created a corpus of paintings, drawings, and other works that drew upon influences like jazz and history and bridged two dominant aesthetic movements of the era, neo-expressionism and hip-hop.
Despite the apparent ubiquity of Basquiat's work, interest in it remains at an all-time high. In 2018, a career-spanning retrospective filled four floors of the Frank Gehry–designed Fondation Louis Vuitton in Paris. The following year, there were the back-to-back exhibitions at the Brant Foundation and the Guggenheim in New York. Plus one at the Museum of Fine Arts, Boston, and another at the Andy Warhol Museum in Pittsburgh.
How it all began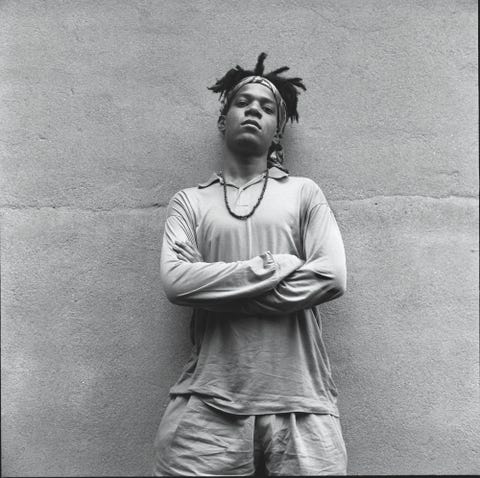 Born in 1960 to Matilde Andrades, who was of Puerto Rican descent, and Gerard Basquiat, an accountant from Port-au-Prince, Haiti, Jean-Michel spent his early years in a middle-class environment largely in Brooklyn. He left home at 17 and, with his high school friend Al Diaz, he began to spray graffiti art throughout downtown Manhattan with the tag SAMO©.
Basquiat seldom spoke about his childhood in interviews though he did credit his mother for nurturing his interest in art. She took him frequently on trips to the various museums in NYC.  She also introduced him to the medical textbook Gray's Anatomy, which she gave him when he was eight and hospitalised after being struck by a car while playing in the street.
Throughout his life, he constantly returned to Gray's Anatomy as source material, naming his band after it and using it in 1982 as inspiration for his first portfolio of prints, titled Anatomy.
Jean-Michel was not only a multilingual adolescent, fluent in English, French, and Spanish, he also grew up surrounded by his father's extensive record collection, heavy on jazz and bebop. The exhibition delves into the deep and complex nature of his relationship with his family and how he was shaped by their sense of his identity.
Basquiat left home at 17 and, with his high school friend Al Diaz, he began to spray graffiti art throughout downtown Manhattan with the tag SAMO©. By the time he was 20, he'd started a post-punk band and starred as a fictionalised version of himself in the indie film Downtown 81. He had also begun painting postcards, which he sold on the street, eventually turning to canvases. Fast-forward four years and he was one of the biggest art stars of the '80s.
At his peak, Basquiat was still an outlier. Even though he achieved a level of fame and fortune unknown to any Black artist before him, he felt rejected by critics and cultural institutions alike.
However, Basquiat did put his experience of racism and everyday vulnerability as a young Black man in America front and centre in his work. He was deeply affected by the death of Michael Stewart, a 25-year-old Black graffiti artist who fell into a coma after he was forcibly restrained by police following his arrest in a New York City subway station.
You could tell how important it was to Basquiat by the way he constantly referred to it in his work. All the aggression that most Black people experience weighed heavily on him. He also repeatedly ruminated on Black artists, particularly jazz musicians,  and athletes in his work.
It was an interesting and unexpected glimpse into Basquiat's life and works.