Postcard from Piedmont: Part III
We had such an enjoyable time in Piedmont earlier this year that my beloved elected to visit again though, this time, we stayed in a different hotel for three nights.
We drove to Langhe in Tom (my SMART) who was looking rather perky after his annual service. He's now 9 years old and has been driven for 66,000 km (42,000 miles). I was complimented on the fact that Tom is in such good nick. What can I say, it's a case of one careful lady owner. The garage advised that, because it's a top-of-the-range model, and not many of those were made, in a couple of years I'll be able to sell it for more than I paid for it – result!!!
My two sisters have teased me for years over whether or not I could afford to buy a whole car. I am now having the last laugh as their Range Rover Evokes (diesel) are rapidly depreciating.
It's generally a fabulous drive along the motorway but there were so many traffic jams due to road repairs that the trip was taking much longer than anticipated. Consequently, we stopped here for lunch.
Now, I appreciate that many would be put off by the restaurant's exterior and entrance but that would be a big, big mistake. This is the type of restaurant that you'll find on all Italian industrial estates catering to its local working population. Water, coffee and two courses for Euros 12,00 – a bargain! We knew we'd lucked out when we tasted its heavenly focaccia. The rest of the menu was equally delicious and all home-made.
Sated, we arrived at the hotel but our room suite (not for nothing do my sisters call me Upgrade Sheree) was ready, allowing us to spend some time strolling around its beautiful grounds before retiring to its Spa. We had no need of a large dinner, an Aperol Spritz and a bar snack sufficed before we sank into our gi-normous bed and the land of nod.
The weather was fabulous the following day so we further explored the immediate area on foot before sunning ourselves on our totally private balcony. After another trip to the Spa, we ate in the hotel's restaurant opting for the delicious vegetable tasting menu which was sourced entirely from the hotel's gardens.
On Friday, I had chosen to celebrate our anniversary with lunch at a Michelin starred restaurant in Alba, a charming town which I've previously featured. This turned out to be an excellent choice and the surroundings, menu and wine were all sublime.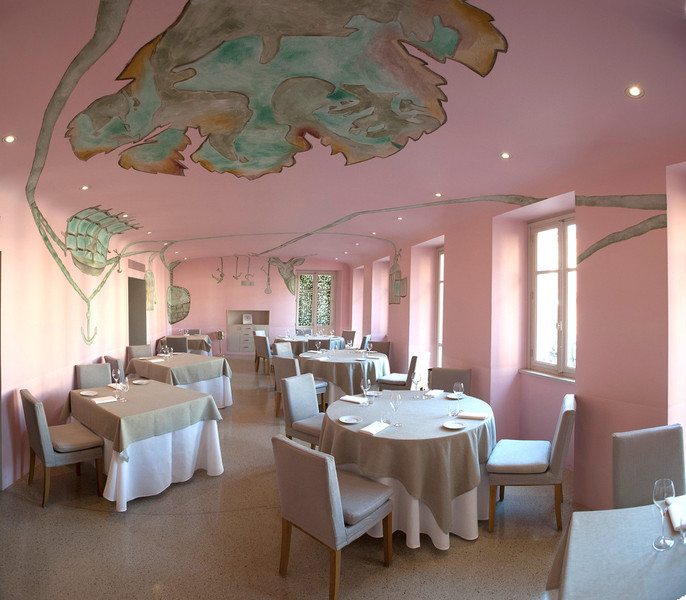 Obviously, we had no need of dinner after our fabulous lunch, though we did manage to force down an Aperol Spritz post-Spa. All too soon our short trip was over but we'll return, probably next year.
Throughout our trip my beloved who you may remember is OCD (Officer in Charge of Drinks) demonstrated that he's taking his newish role more seriously. He took notes and photos of the bottles of wine we enjoyed and then sourced an Enoteca (wine-shop) in nearby Dogliani (more of which tomorrow) where we could buy a few bottles. It would've been nice to visit the actual vineyards but maybe…….next time.