One from the vaults: Postcard from Hamburg
I'm heading back to a post from 2016 and a visit to the northern German city of Hamburg, a place where we've both both spent a lot of time.
When I worked in internal audit for an American bank in the early eighties, I regularly visited Hamburg to see friends. Friends my beloved had made when he'd spent his industrial placement there in the late 1970s. We even spent Christmas and New Year there early in our married life together – anything to avoid going to the outlaw's (my nickname for my mother-in-law).
Eventually our friends settled down, got married, built a house and had a family. At this point when we visited we stayed in a hotel, largely to minimise disruption to their family life. At some point and I'm not sure why, we just stopped visiting. Two years ago, at the invitation of one of our clients, we spent a brief week-end there but had little opportunity to explore.
My beloved had business meetings there this week so I decided the time was ripe to reacquaint ourselves with one of our favourite cities. Hamburg, with its port, lakes, rivers and vast network of canals, is located in the middle of a wonderful watery landscape punctuated with patches of green in the form of numerous parks, meadows and forests – many designated as conservation areas. With its fresh North Sea breeze, urban architecture and vast public green spaces, Hamburg is well worth a visit and, as one of Europe's greenest cities, provides an almost unparalleled quality of life. Sadly, the other side of the coin appears to be an increase in homelessness and street beggars.
In the heart of Hamburg, there's the Alster, divided into Binnenalster and Außenalster (Inner and Outer Alster). Adjacent to Binnenalster, is the ever-expanding Neustadt shopping, with well-known streets like Jungfernstieg, the magnificent Hanseviertel and Neuer Wall. The shops are well worth a browse and I spent most of Monday, while my beloved was at meetings, window shopping. However, if you're visiting the city for the first time, I'd recommend a boat trip as exploring Hamburg from the water provides a whole new perspective on this beautiful city.
Sunday we strolled through Hamburg's green spaces, particularly the park all around Neustadt, en route to lunch in the harbour, an area that has much benefited from gentrification. Aside from the renovation and repurposing of historic buildings, there are plenty of modern apartments overlooking the river. It was a good 10km walk from the hotel and back which enabled us to a) work up an appetite and b) work off the calories on our return. Both times we passed through Speicherstadt, a gigantic warehouse district of renovated, century-old buildings built in traditional Hanseatic red bricks with gables, turrets and projecting alcoves.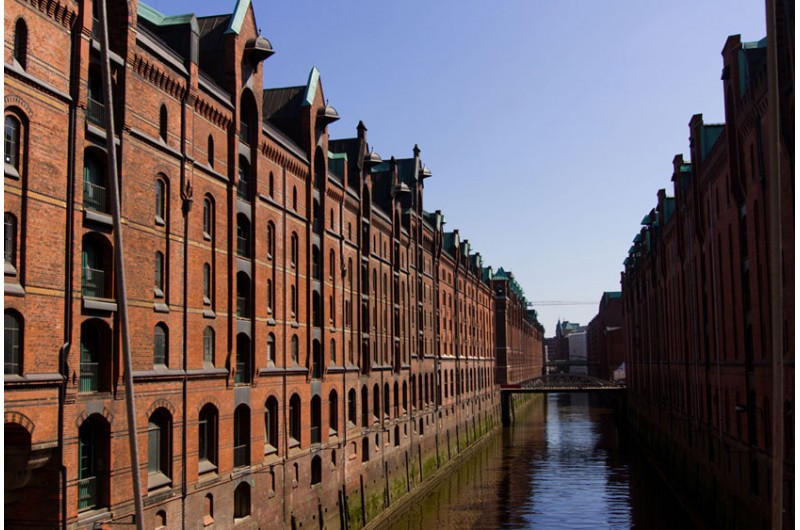 Tuesday, we had just enough time for lunch in the hotel where we always used to stay. The hotel has since changed hands but the new owners have maintained and enhanced its old world charms. The restaurant menu featured all of my Germanic favourites which are now strictly verboten! I had to settle for yet another half of lobster (my third on this trip) and a beautiful leafy green salad. We both enjoyed our trip down memory lane and vowed not to leave it quite so long before our next visit.