Rice pudding is the Marmite of desserts. I don't think there is a pudding that divides opinion more but it's omnipresent in a number of cuisines.This rice pudding is cooked on the top of the stove, more like a risotto rather than baked (so no dreaded skin), and it is flavoured with a rich banana caramel which is hit with a bit of miso. You could leave out the miso, or just use a teaspoon of soy in its place: it adds a salty sweetness – think salted caramel.
Ingredients (serves 6)
3 ripe bananas, peeled and mashed
50g (1/4 cup) soft light brown sugar
200g (1 cup) white pudding rice
1 star anise
seeds from 2 cardamom pods
1 cinnamon stick
2 vanilla pods or 1 tsp vanilla extract
I/2 tsp fennel seeds, crushed
1 ltr (4 cups) almond milk or any milk of your choice
1 tsp sweet white miso paste
Method
1. Heat the milk and aromatics to simmering then leave to infuse and cool.
2. Put the mashed bananas and soft brown sugar into a medium-sized pan over a medium heat and cook for 5–7 minutes until the sugar has dissolved and caramelised. Keep stirring until thick, dark and glossy.
2. Add the rice to the pan and stir through the banana caramel for a couple of minutes. Add the warm milk and spices, plus miso paste and bring to the boil. Then turn down heat and simmer gently for 25-30 minutes, stirring frequently so it doesn't stick.
3. Once cooked, allow to cool to room temperature, with the spices in situ.
4. Remove spices and serve with freshly sliced banana, a swirl of smoky maple syrup or decadent cold cream (my beloved's favourite) and a sprinkle of sesame seeds.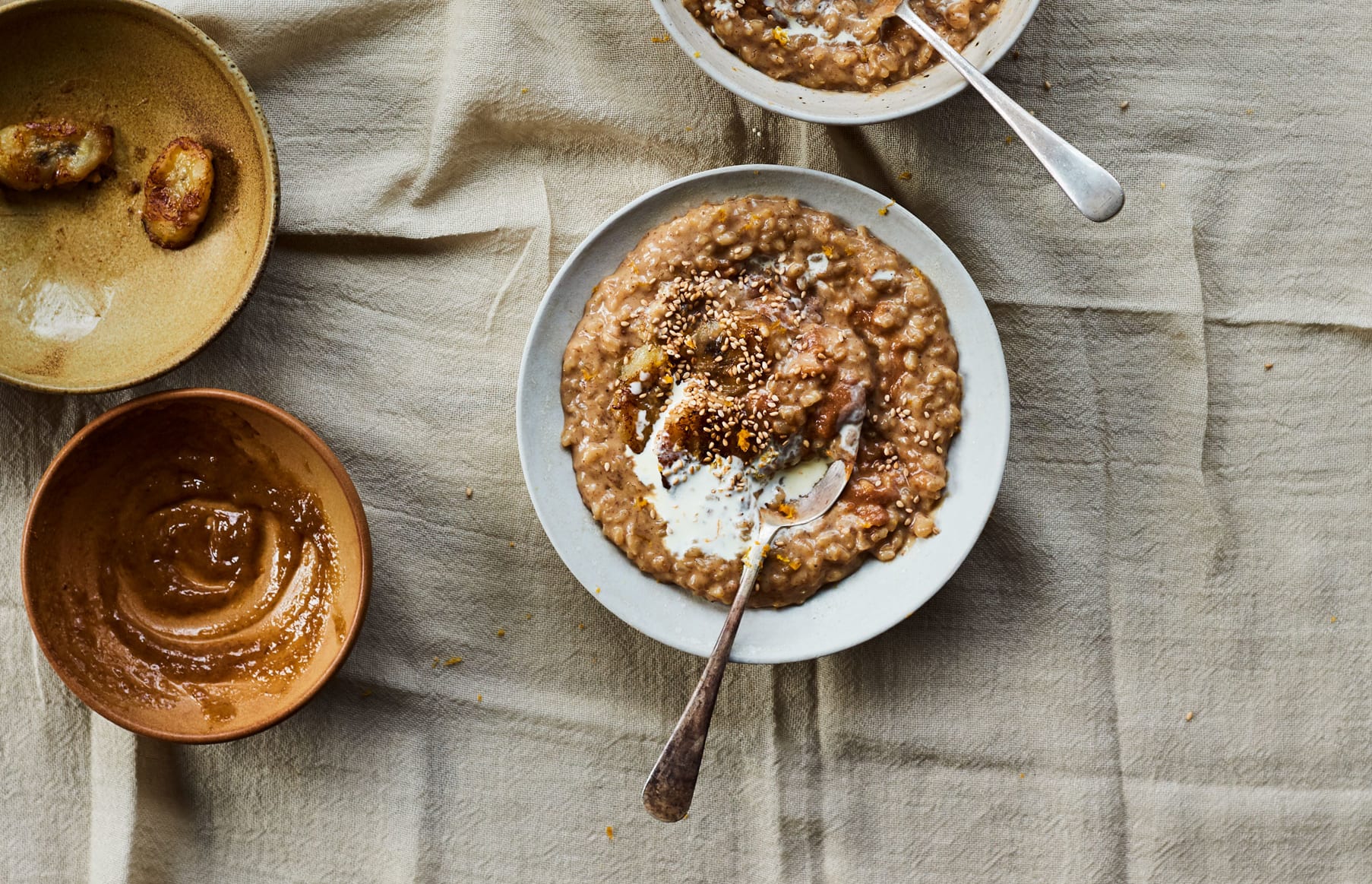 5. Store in fridge with plastic film directly onto the surface of the pudding to prevent the formation of any skin. It'll sit happily in the fridge for several days but, TBH, it never lasts that long.