How it all began
The museum collection was founded in 1905 by members of the "Union des arts décoratifs". Its deep holdings range back to 13th century Europe. Today's collection is primarily composed of French furniture, tableware, carpets such as those from Aubusson, porcelain such as that by the Manufacture nationale de Sèvres, and many glass pieces by René Lalique, Émile Gallé and many others. It includes numerous works in the Art Nouveau and Art Déco styles and modern examples by designers like Eileen Gray and Charlotte Perriand.
There are also period rooms. Examples include part of Jeanne Lanvin's house (decorated by Albert-Armand Rateau [1884–1938] in the early 1920s) at 16 rue Barbet-de-Jouy in Paris. Others are graphic artist Eugène Grasset's dining room of 1880, and the 1752 Gold Cabinet of Avignon. And, peculiar to a French museum it seems, there is the 1875 bedroom of courtesan Lucie Émilie Delabigne, purportedly the inspiration for the main character in Émile Zola's novel Nana (1880). There is a distinctive ceiling there once owned by Jeanne Baptiste d'Albert de Luynes, mistress of then duke of Savoy.
The Surreal Worlds of Elsa Schiaparelli
However, none of this was on display when we visited as it's being renovated, again. Instead we were treated to a visual feast in which I freely admit I lusted after most of the exhibits. Yes, I'm talking  about works from the bold, inspiring, avant-garde, shocking (even) fashion designer Elsa Schiaparelli.
Schiaparelli was a fashion designer from an aristocratic Italian background. She created the house of Schiaparelli in Paris in 1927, which she managed from the 1930s to the 1950s. Starting with knitwear, Schiaparelli's designs celebrated Surrealism and eccentric fashions. Her collections were famous for unconventional and artistic themes like the human body, insects, or trompe-l'œil, and for the use of bright colours like her "shocking pink".
She famously collaborated with Salvador Dalí and Jean Cocteau.
Along with Coco Chanel, her greatest rival, she is regarded as one of the most prominent European figures in fashion between the two World Wars.
 The exhibition displayed 520 works including 272 costumes and fashion accessories.  Spread over two floors at the museum, it includes sculptures, jewelry, perfume bottles, ceramics, posters and photographs signed by the greatest names of the time.
The exhibition highlights her remarkable and revolutionary collections, as well as her surprising collaborations, through an immersive and spectacular scenography. In particular, there are hundreds of fabulous drawings and sketches by her, which trace her awakening to fashion and haute couture. The Museum had also reconstructed her atelier.
Sadly Schiaparelli fell out of favour after WWII and the couture house was shut down in December 1954. In 1957, she created a company mainly for her perfume licences, which is the actual company today. In 2007, Italian businessman Diego Della Valle (owner of Tod's) acquired it and re-opened the couture house  at Hôtel de Fontpertuis, 21 Place Vendôme, her former atelier.
But it wasn't until Marco Zanini was appointed artistic director in September 2013 that details of the brand's revival became public. The house was nominated for a return to the Chambre Syndicale de la Haute Couture list of members (granted in the summer of 2017) and presented its first show since nomination in January 2014.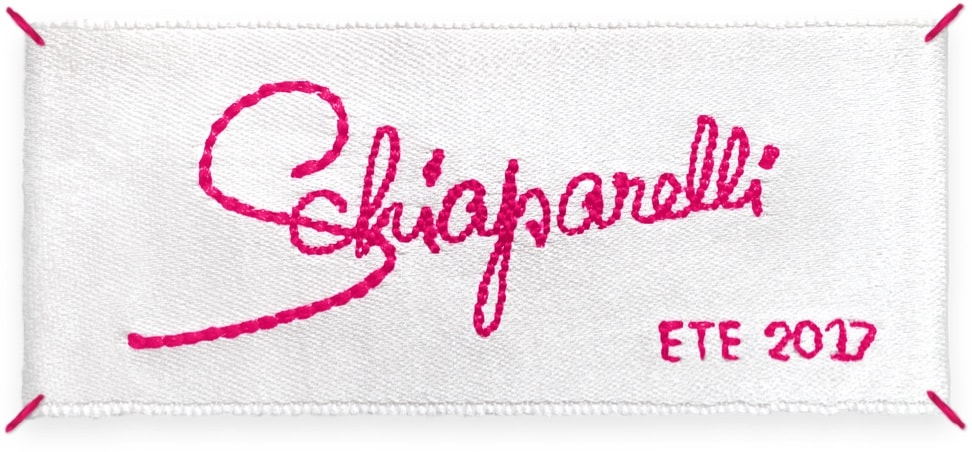 In 2019, American Daniel Roseberry (formerly at Thom Browne) became artistic director of Schiaparelli. During his tenure, Roseberry has become known for resurrecting some of the Maison's most beloved and influential codes and iconography, while paying homage to its founder, Elsa Schiaparelli's love of Surrealism; at the same time, he has subverted many of those same codes, contributing a new aesthetic vocabulary with his frequent use of gold jewelry and hardware, repurposed denim, and moulded leather and metal breast plates and body parts. Like Schiaparelli herself, who was known for her technical innovations, Roseberry is particularly interested in experimenting with new or unlikely fabrics, and exploding the idea of what couture can–or should–be.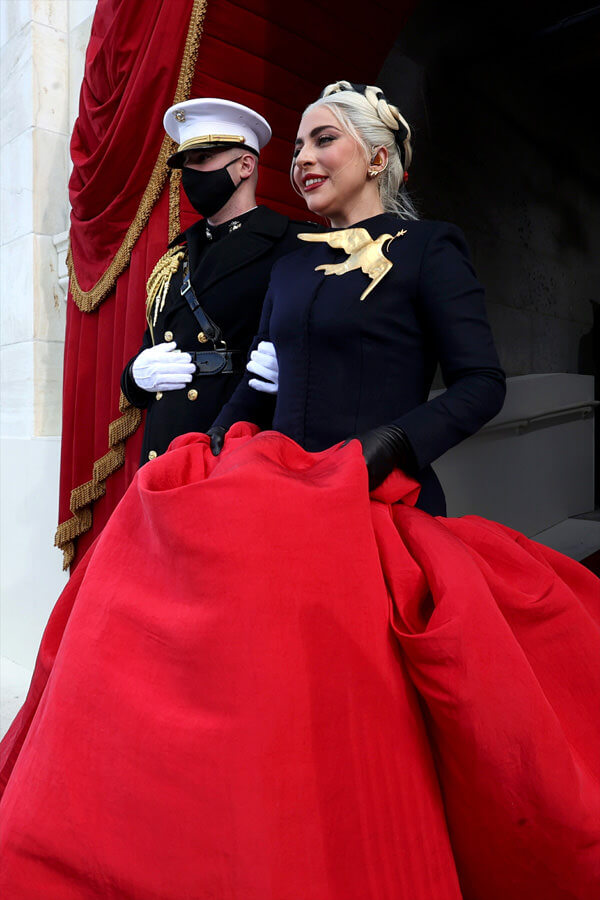 Lady Gaga famously wore Schiaparelli Haute Couture to sing the national anthem at the inauguration of President-Elect Joe Biden. On her dress was a gilded brass dove holding an olive branch as a symbol of harmony and peace. That seems somewhat ironic now.
.