Trip to Gare de Lyon
Located in the heart of 12th arrondissement of Paris, Gare de Lyon welcomes 110 million visitors a year. Trains depart to serve central-eastern and south-eastern France. Built in 1855, and redesigned by the Toulon architect Marius Toudoire for the Universal Exhibition of 1900, the station is also famous for its impressive architectural features, such as the Clock Tower (by Charles Garnier, who created the opera of the same name). This has been classified as a historical monument and (allegedly) offers a panoramic view of the capital from on high.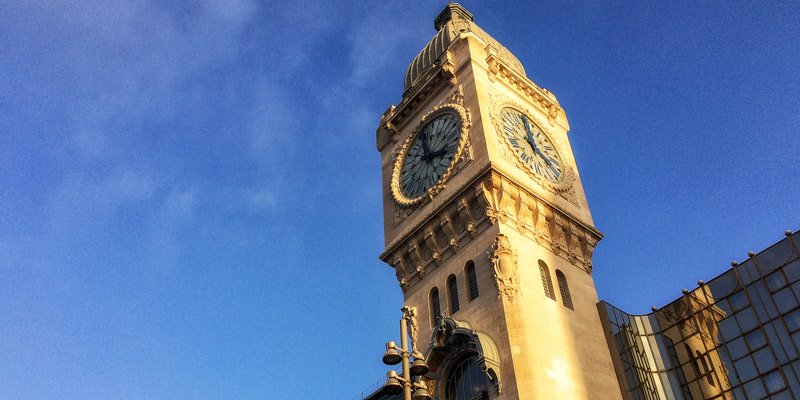 The station is divided into three large halls. Hall 1 is the historic hall of the station, dominated by the emblematic bar and restaurant Le Train Bleu, a true Parisian institution that is worth a visit on its own. Its large forecourt is enlivened in summer by terraces and pop-up stores. Hall 2, modern and bright, welcomes mainline travellers and offers a wide range of restaurants. Hall 3 – underground – provides access to the OuiGo trains and offers fast food. These three halls are linked by two shopping galleries: the Galerie Diderot (beauty, accessories and ready-to-wear shops) and the Salle des Fresques.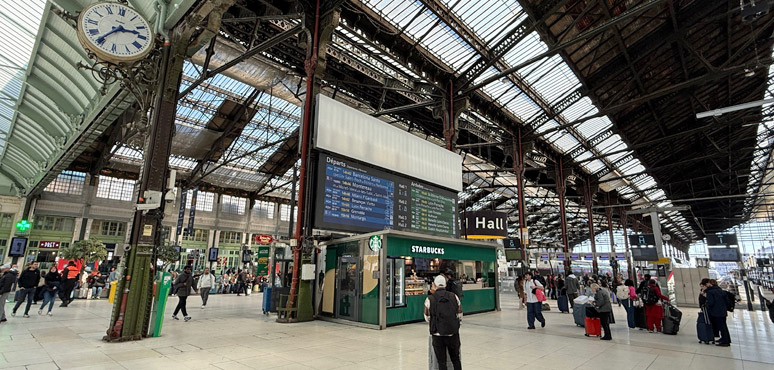 We love travelling by train to Paris and do so at least twice a year. Our trips always involve a lunch, either on arrival or on departure, in the magnificent Le Train Bleu restaurant.
Le Train Bleu
Le Train Bleu is a gastronomic restaurant in neo-baroque and Belle Époque style from the 1900s located on the 1st floor hall of the station. Saved from demolition by André Malraux in 1966, some of its rooms were classified as historical monuments in 1972 by Jacques Duhamel. Its magnificent entrance and glass canopy is currently undergoing renovation.
The restaurant was built in 1900 as the station buffet for the Universal Exhibition and only later became Le Train Bleu. It was built by Marius Toudoire, the famous architect behind the Gare de Lyon façade. The management of the railway company hoped to create an unmissable gourmet experience in a luxurious, modern and legendary setting – I'd say, they've succeeded.
In 1963, the buffet became "Le Train Bleu" as a tribute to the "Paris-Vintimille" line dating from 1868, the legendary train that served towns in the French Riviera along the Mediterranean coast.
If you're taking a train from Gare de Lyon, don't forget to pop into Le Train Bleu, if only just for a coffee.