A wander around the Bourse
The Bourse neighbourhood, named after the former Paris stock exchange once located in the majestic Palais Brogniart, occupies the 2nd arrondissement's middle swath.  Here are the city's largest concentration of 19th century historic glass-roofed arcades (precursors to our modern indoor shopping malls).
How it all began
Covered passages – "passages couverts" in French – transformed shopping in Paris starting in the late 18th century after the French Revolution led to the nationalisation and sale of many city properties previously owned by religious orders and the Catholic church.  The developers who bought these properties sought to maximize their profits by subdividing them and creating passages lined with small businesses and boutiques between the larger buildings.
At that time, Paris retained much of its medieval character.  Going out to shop meant trudging through crowds down narrow muddy lanes, getting splashed with water (and worse things) by passing horses, walking past open sewers, and trying not to choke from the stench permeating the city.
So when developers transformed the passages between buildings into arcades covered by glass roofs to let sunlight stream in while keeping out rain, floors paved with tile to keep feet dry, and shops and cafes lining both sides began springing up around the city, they were a game-changer for wealthy Parisians – not just a place to shop, but also to socialise.
Out of the 150 or so covered walkways once lining the city, less than 30 remain with the largest number in the 2nd arrondissement.  Each one is different, and they are fascination places to explore – an almost-hidden part of Paris where you can soak up all the architectural details.
Here are nine historic covered passages and galleries to enjoy in the 2nd arrondissement.
Galerie Vivienne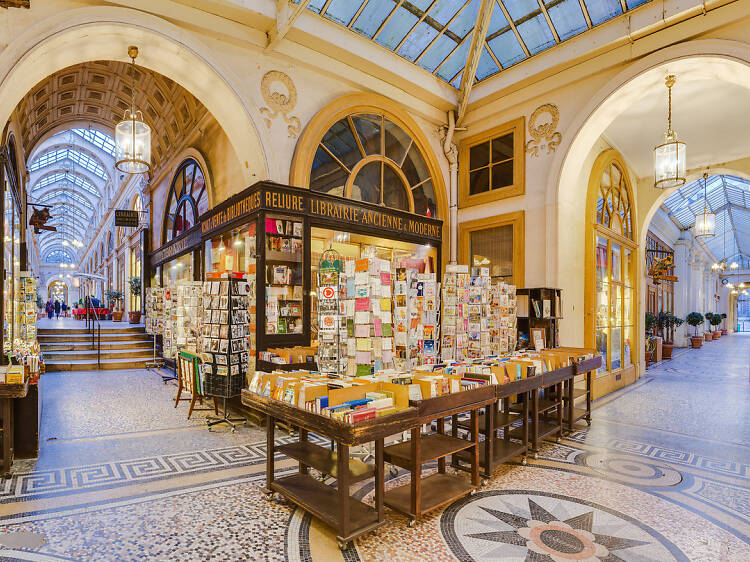 Upscale Galerie Vivienne (entrances at 6 Rue Vivienne, 5 Rue de la Banque and on Rue des Petits-Champs) is a gracious walkway dating back to 1873. It's in perfect condition, all polished wood, glass and wrought iron, its mosaic-inlaid corridors lined with plants. Even at peak times this place has an air of quiet elegance, making it a pure pleasure to browse the array of chic boutiques. I found the most divine scarf/shawl shop here and my beloved kindly treated me to one.
Passage Choiseul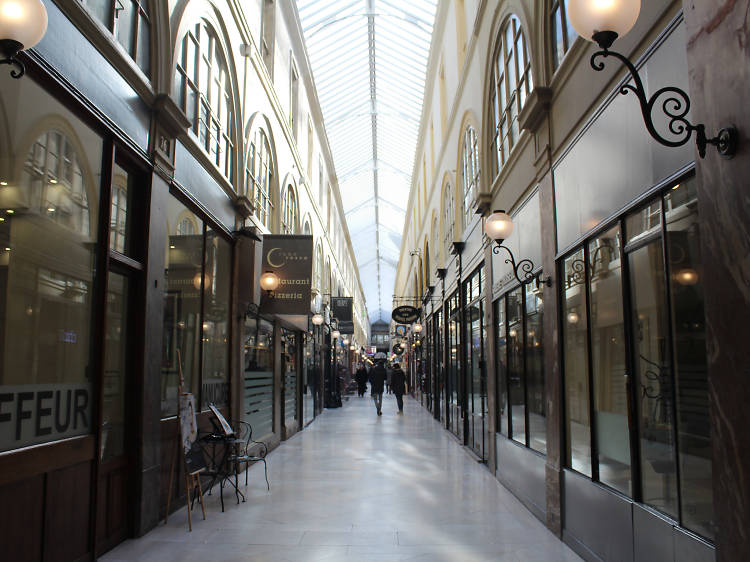 Dating back to 1827, Passage Choiseul is an extension of Rue de Choiseul (entrances at 40 Rue des Petits-Champs and 23 Rue Saint-Augustin). Although it contains a variety of shops, in recent years it has also attracted a number of Korean and Japanese businesses and bistros, perhaps an extension of the Asian restaurants along nearby Rue Sainte-Anne and side streets.
Passage des Princes
The Passage des Princes, built in 1860, has the distinction of being the last covered arcade authorised during the era of Baron Haussmann, who eliminated many of them as he rebuilt the city.  Ironically, a real estate company bought it and destroyed in 1885 two architects then rebuilt it almost to its original specifications in 1995 (aside from the modern entrance at 7  Boulevard des Italiens, 97 Rue de Richelieu. Today, Passage des Princes still looks new and gorgeous, with a stained glass cupola and two galleries covered by soaring steel and glass roofs supported by arabesques and meeting at a right angle.
Passage des Panoramas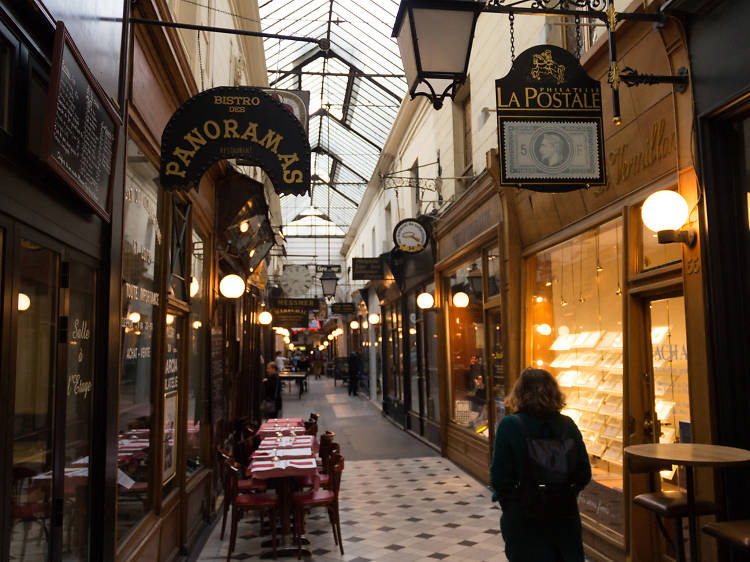 Passage des Panoramas, which opened in 1834, was one of the first public spaces in Paris to get gas lighting (1817), forms a maze by connecting with several other glass-roofed arcades – Galerie Saint-Marc, Galerie Feydeau, Galerie Montmartre, Galerie des Variétes – within a large city block enclosed by Boulevard Montmartre, Rue Montmartre, Rue Saint-Marc, and Rue Vivienne. It's the most characterful of Paris's covered passages, crammed as it is with quality bars and restaurants, vintage postcard shops and philatelist boutiques.
Passage du Grand Cerf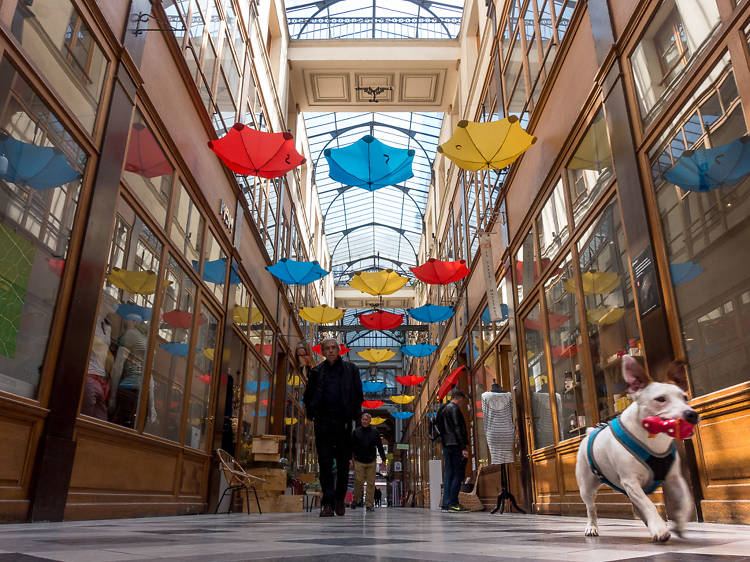 With its 12-metre-high glass roof, the Passage du Grand Cerf – made famous by Louis Malle's 1960 film 'Zazie Dans le Métro' – is the tallest of Paris's covered passages. Linking the Rue Saint-Denis and the Rue Dussoubs, it's one of a second wave of passages built after Haussman's restoration of central Paris, and had to close for a period because the glass roof had become dangerous. Major works have since returned it to its original glory.
Passage du Caire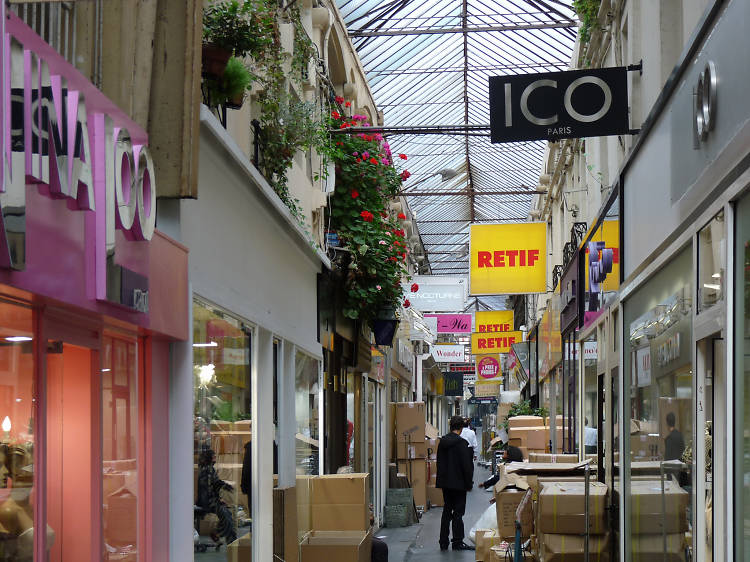 At 370 metres, the Passage du Caire is the longest and narrowest arcade in Paris. Despite being somewhat shabby and run-down, it still manages to exude an air of its former grandeur. Currently occupied by wholesale textile, trim, and ready-to-wear businesses – a microcosm of the garment industry in Sentier.  You just know it's awaiting gentrification. It opened in 1798 just as Napoleon's campaign in Egypt ignited the French capital with a craze for all things Egyptian. Hence the three sculptural images of the Egyptian goddess Hathor peering down from the side of the building on Place du Caire where the the passage's main entrance is located.
Galerie Colbert
Galerie Colbert has spectacular rotunda topped by a glass dome, and it contains just one restaurant (a splendid and very popular brasserie, Le Grand Colbert) and no shops.  That's because the National Library of France bought the 1826 gallery several decades ago and it now houses the National Institute of Art History and a number of other cultural institutions. Located between 6 Rue des Petits-Champs and 2 Rue Vivienne, it's worth visiting (after passing through a security check point) to admire the dome and ornate glass-roofed passage.
Passage du Bourg l'Abbé
This once-elegant passage build in 1826 retains much of its beauty, despite the mish-mash of shops inside. It's located between 120 Rue Saint-Denis and 3 Rue de Palestro. On the Rue de Palestro, two majestic statues – allegories of commerce and industry – flank its entrance to the Passage du Bourg-l'Abbé.