Looking for an easy and flavourful seafood dish? Look no further than these pan -seared scallops with cherry tomatoes, black olives and capers. – sauce Provençal. Delicious on their own but insanely good over angel-hair pasta or rice. This dish takes less than 30 minutes to whip up – always a bonus in my book – but tastes and looks like it's from a fancy French restaurant!
The sauce doesn't just go with scallops, it's delicious with lamb, chicken, salmon, tofu, cauliflower……..endless possibilities!
Ingredients (serves 6)
Sauce:
2

 tbsp 

unsalted butter

1

 tbsp 

olive oil

1/4

tsp 

crushed red pepper flakes

1

 fat 

garlic glove, finely minced

350g (1

pint)

cherry tomatoes, sliced in half

3

 tbsp 

seedless black olives, halved

2

 tbsp 

capers, drained and rinsed

80ml (1/4

 

cup)

dry white wine

handful

fresh herbs, finely chopped

2

tbsp

 

fresh lemon juice

freshly ground sea salt and pepper to taste
Scallops:
Method
1. Firstly, make the sauce in a large frying (skillet) pan over medium heat, add the butter and cook, tilting the pan frequently, until butter has lightly browned. It should smell nutty and have amber bits on the bottom of the pan.
2. Add the olive oil and crushed red pepper flakes, sauté for a minute before adding . the garlic.  Cook, stirring frequently, for another minute, or until garlic is fragrant.
3. Add the cherry tomatoes and cook, stirring occasionally, until they're soft and squishy, but still hold their shape, about 8 minutes.
4. Stir in the olives and capers and cook for 2 minutes, stirring frequently. Add in the white wine, stir, and allow the mixture to come to a gentle simmer.
5. Stir in the herbs, lemon juice and seasoning, and cook for 2 minutes. Keep warm while you cook the scallops.
6. See my earlier recipe for how to prepare the scallops. Rinse them with cold water and pat very dry with a few sheets of paper towels. You want to make sure you get as much moisture out of them as possible. Set aside on a paper towel.
7. Add the butter and oil to a large frying (skillet) pan over a high heat. While the pan heats up, lightly salt the scallops.
8. Once the pan begins to lightly smoke, gently add the scallops clockwise into the pan, making sure they are not touching. Sear them for about 90 seconds, then gently flip and cook for another 30 seconds or so, until both sides are golden brown. DO NOT TOUCH or move touch them at all while they're searing. Remove from the heat.
9. Top with sauce, and serve preferably over pasta or rice.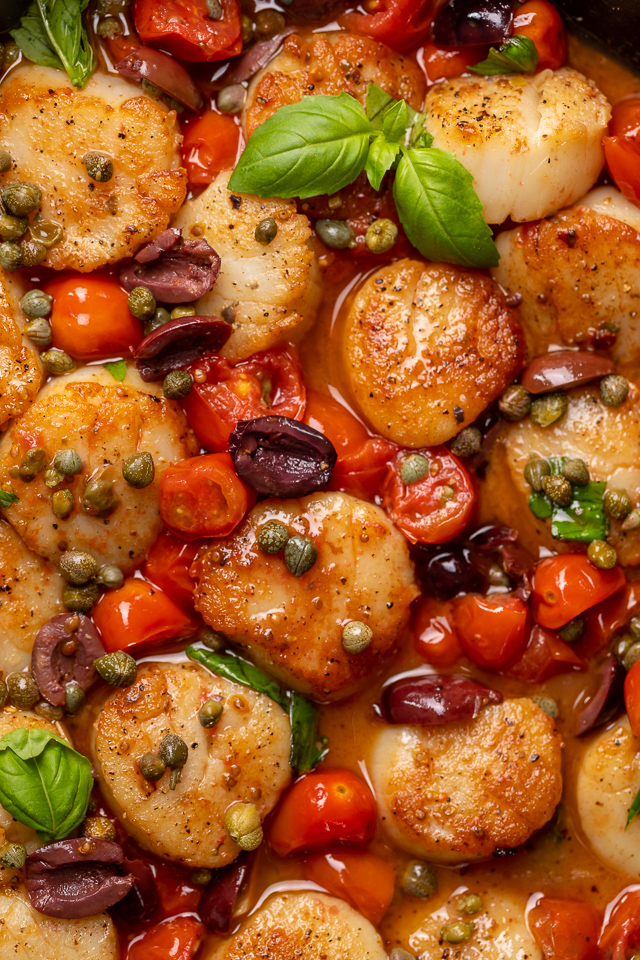 This sauce is delicious with pretty much anything! It can be made ahead of time but, if you do, only add the herbs and lemon juice and cook for 2 minutes just before serving.