The Ritz, which we recently visited, is so closely tied to the author – who set part of The Sun Also Rises (1926) here – that a bar here is named after him. Hemingway famously liberated the hotel from German forces in 1944, racking up a bar tab of 51 dry martinis shortly thereafter.
Hotel Lutetia (Paris, France)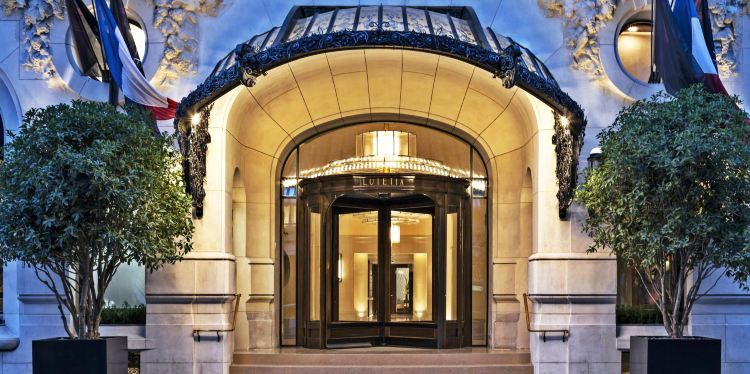 Another of Hemingway's many Parisian haunts, Hotel Lutetia is where James Joyce wrote part of Ulysses (1922), with Hemingway acting as occasional editor between drinks. The hotel has relatively recently reopened after renovation.
Caffé Roma (Alassio, Italy)
This may have slipped under the radar but there are photographs of Hemingway at the bar in the 1950s when he suggested to the painter Mario Berrino (former owner of the caffé) that the wall of the public garden opposite should be covered with small tiles signed by celebrities. Et voilà!
Les Deux Garcons (Aix-en-Provence, France)
Now closed due to a 2019 fire, this has been Aix's most famous brasserie since it opened in 1792. Paul Cézanne, Émile Zola, Albert Camus, Ernest Hemingway, and other prominent figures all spent time here.
Hotel Casa de Suecia (Madrid, Spain)
Hemingway had a lifelong love affair with Spain. He visited many times from the 1920s and throughout the 1930s – when he covered the Spanish Civil War – to his final visit in 1960. People joke that there are few places in Madrid that don't claim Ernest Hemingway drank there, but he definitely had his favourites. Including this place where he lived here in the fifties. It has since been fully renovated and is now owned by NH group who've since installed the aptly-named Hemingway Cocktail Bar.
Café Iruña (Pamplona, Spain)
Hemingway who documented his Pamplona experiences in his novel 'The Sun Also Rises', fell in love with Pamplona and its bars, most of which are still there today in the main square. Quite possibly his favourite was this one founded in 1888. It's one of the most beautiful places in Pamplona to have a drink because its original appearance has been painstakingly preserved.
Just as Hemingway's novel pays homage to Café Iruña, the venue itself pays homage to Hemingway by having a quiet designated bar area called 'El Rincón de Heminway' where you can find the writer himself in the form of a bronze statue which leans over the bar as if waiting to be served, as Hemingway would have done so many times before.
Harry's Bar (Venice, Italy)
During Hemingway's time in Venice in the late '40s, he practically lived at Harry's Bar, where he had a table of his own and often drank with the owner. The bar features in his short story Over the River and Into the Trees (1950).
Where have you been following in Hemingway's famous footsteps?