French Fancies: Éric Bompard
It's winter, it's nearly Christmas so what about some cashmere that most luxurious of fabrics?
Éric Bompard is both a French company specialising in cashmere, and the company's creator.
How it all began
The company was founded in 1983 by Éric Bompard, a former IT executive who fell in love with cashmere – wholly understandable!. He travelled to Asia and discovered cashmere and capra arbas, a goat that lives in the Mongolian high steppes over 3,000 metres high, the hair from which has for thousands of years produced a much sought after soft yarn.
In the early 1980s, only Scotland imported raw cashmere yarn but in 1983 Bompard brought it back to France at a time when cashmere was very much a luxury product. Bombard signed an exclusive agreement Wang Linxiang, a Chinese entrepreneur, and CEO of Erdos, world leader in the production of cashmere.
His supply secured, Bombard set up his company. Having overcome the restrictive quotas set by Brussels, he opened his first store in 1984, on rue Montrosier, in Neuilly-sur-Seine, with initially just three sweaters, available in three sizes and three colours.
Those fundamentals, in terms of raw material sourcing, established by Bompard and his partner Wang, have been at the heart of the brand's success. Even better, Erdos bought 20% of Bompard's capital in the late 80s giving the supplier a greater  interest in offering Bompard the best cashmere yarns and enabling Bombard to expand.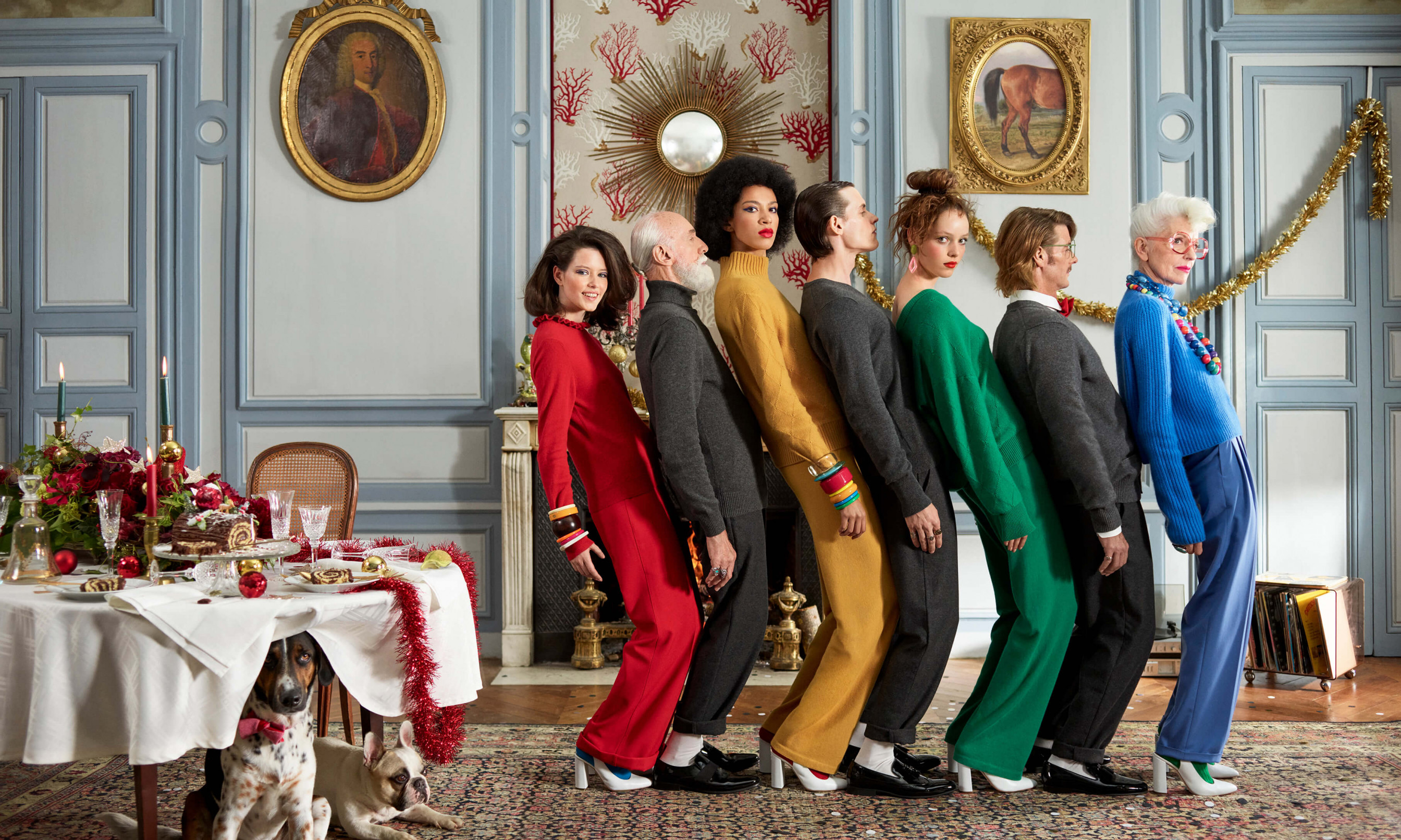 He developed an exclusive distribution network, plus had sales areas in Parisian department stores. A second boutique was created on rue de Varenne in Paris, then others followed in France and abroad: in Germany, Belgium and then Switzerland. In 2004, Bompard signed a joint venture with Erdos for the distribution of the brand in the Far East. In 2007, a flagship was created on the Avenue des Champs-Élysées. A sure sign the company was entering the big leagues.
In the 2010s, Éric Bompard gradually handed over the reins to his daughter Lorraine de Gournay, who became General Manager of Bompard. In 2018, Bombard sold his remaining 80% interest to a consortium which included Xavier Marie, the founder of Maisons du Monde, as well as to Apax Partners, and BPIFrance.
In March 2020 Barbara Werschine, former vice-chairman of Zadig & Voltaire, was appointed Chief Executive Officer. Yes, right before the pandemic closed everything down for three months, but thanks to her careful management, Bombard emerged in great shape. As she explains:
I immediately made sure our teams were cared for and protected, as well as for the company to be able to pursue its business in this unprecedented context. We had just gone through several months of gilets jaunes in France and of boutique closures, we had to be out there to support and encourage salespeople and boutique directors. As well as show our clients that they could count on us.
The company's contemporary acceleration should not however cloud the quality of the brand's fundamentals, which include its CSR approach. Ethics have always been one of the company's main drivers, on the human as well as the environmental level, well before it became a must-have. Eric Bompard has always been active in sustainability. It is at the heart of Bompard cashmeres.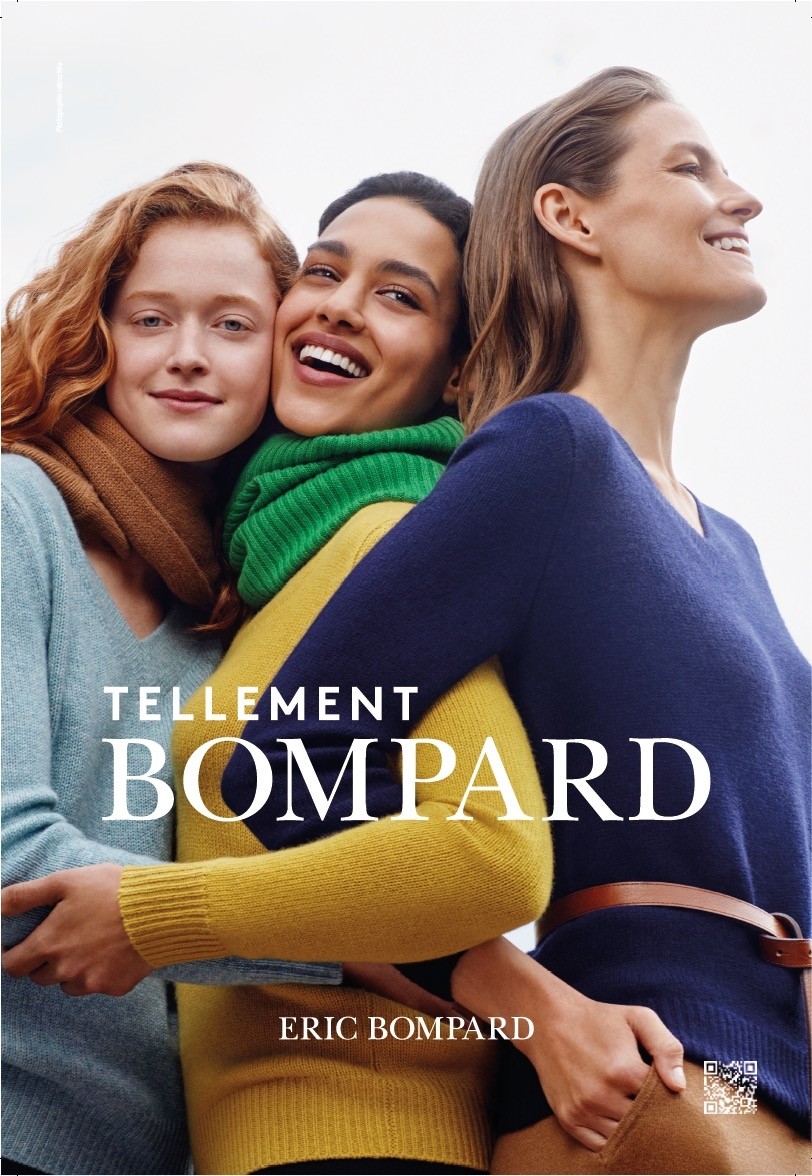 In the coming years, Bompard will open new boutiques and deploy worldwide, to include a wholesale strategy. Demand is strong for retailers, including in Europe, the USA and Asia. The House of Bompard has a bright future ahead of it.
Ethical and Environmentally Friendly Practices
Bompard knitwear is designed in France and manufactured locally in Inner Mongolia. where the goats are raised in ideal climatic conditions that guarantees an unrivalled quality of the fibres and their fleece. The material is gathered and processed directly at source. Bombard partners with a network of breeders and the Erdos factory, allowing for complete traceability of the material.
As evidence of its social and environmental commitment, Bompard has, from the start, worked exclusively with partners who aim for RWS (Responsible Wool Standard) certification. It is also a member of the UN Global Compact.
Almost 90% of Eric Bompard textiles are certified OEKO-TEX® 100 guaranteeing the absence of substances which may harm or irritate the skin. In addition Bombard was the first French ready-to-wear company to obtain MADE IN GREEN by OEKO-TEX® which guarantees that its creations are made from materials that are not harmful to health, in factories that are environmentally friendly and its working conditions are socially responsible.
In addition, from 2022 onwards the Bombard collection has been certified by The Good Cashmere Standard®. The standard ensures the welfare of the cashmere goats, protects the environment and improves the working conditions of the farm workers. Independent audits are in place to guarantee the reliability of the standard.
Because an Eric Bompard cashmere knit is a timeless garment that will last for generations,  Bompard has also introduced a new "Long Life of Cashmere" service. A socially responsible and committed initiative that has entered a new crucial phase in its drive for fashion that is more sustainable, inclusive and eco-friendly.
Mindful of the major issues related to cashmere and, more generally, to the textile industry, Eric Bompard is committed to becoming one of the main players in the field of eco-responsible knitwear, adopting a «slow fashion» approach.
All images courtesy of Eric Bompard