The Musette: Gougères
Gougères, a baked savoury pastry made with a French choux dough, are my secret weapon at this time of year because I always have a bag in the freezer at the ready. I make the dough ahead of time then bake them straight from the freezer whenever I need some pre-dinner nibbles.
There is something irresistible about the way they explode in size and bake into golden pom-poms of cheese-crusted magic. Like soufflés, I think there is a perception that they're tricky to make. But, I promise you, with a little practice (and know-how) you can have an impressive platter piled sky-high with puffery gorgeousness with next to no effort.
Ingredients (makes approx. 24)
160ml (2/3

cup) liquid

 (

beer/ale or water)

80ml (1/3

cup) whole 

milk

8

tbsp unsalted

butter

3/4

 t

sp

 

fine sea salt

130g (1

cup)

  plain T45 (

all-purpose) flour

4

large organic eggs, room temperature

90g (1 1/4

cup)

 grated strong-flavoured cheese 

cheddar

1

serrano chile, very finely chopped (optional)
Method
1.Pre-heat oven to 220C/fan 200C/(425F)/gas mark 7 and line a baking sheet with greaseproof (parchment) paper.
2. Bring the liquids, butter and salt to a boil in a large (thick-bottomed) saucepan over medium-high heat and add the flour. Using a wooden spoon, stir energetically for a couple minutes, until the dough comes together smoothly and gives off a faintly toasty scent.
3. Remove pan from heat and let the contents cool, stirring occasionally to let heat out, for about ten minutes. Long enough that the eggs won't scramble when you work them in.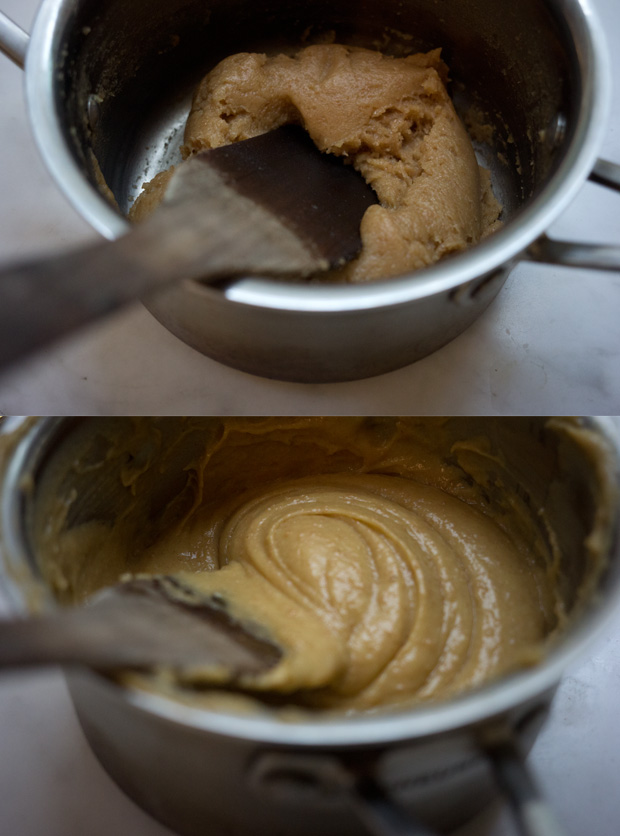 4. One at a time, add each of the four eggs, stirring vigorously after each addition. Really work each egg into the batter. Stir in about a cup of the cheese, and right away pipe (using a pastry bag) or scoop gougères onto the prepared baking sheet by heaping tablespoon-sized dollops, leaving a goodly gap between each. Sprinkle with the remaining cheese.
5. Place in the oven, bake for FIVE minutes, then reduce the oven temperature to 190C/fan 170C/(375 F)/gas mark 5, and bake another 20- 25 minutes, or until gougères are deeply golden all over, puffed and well set.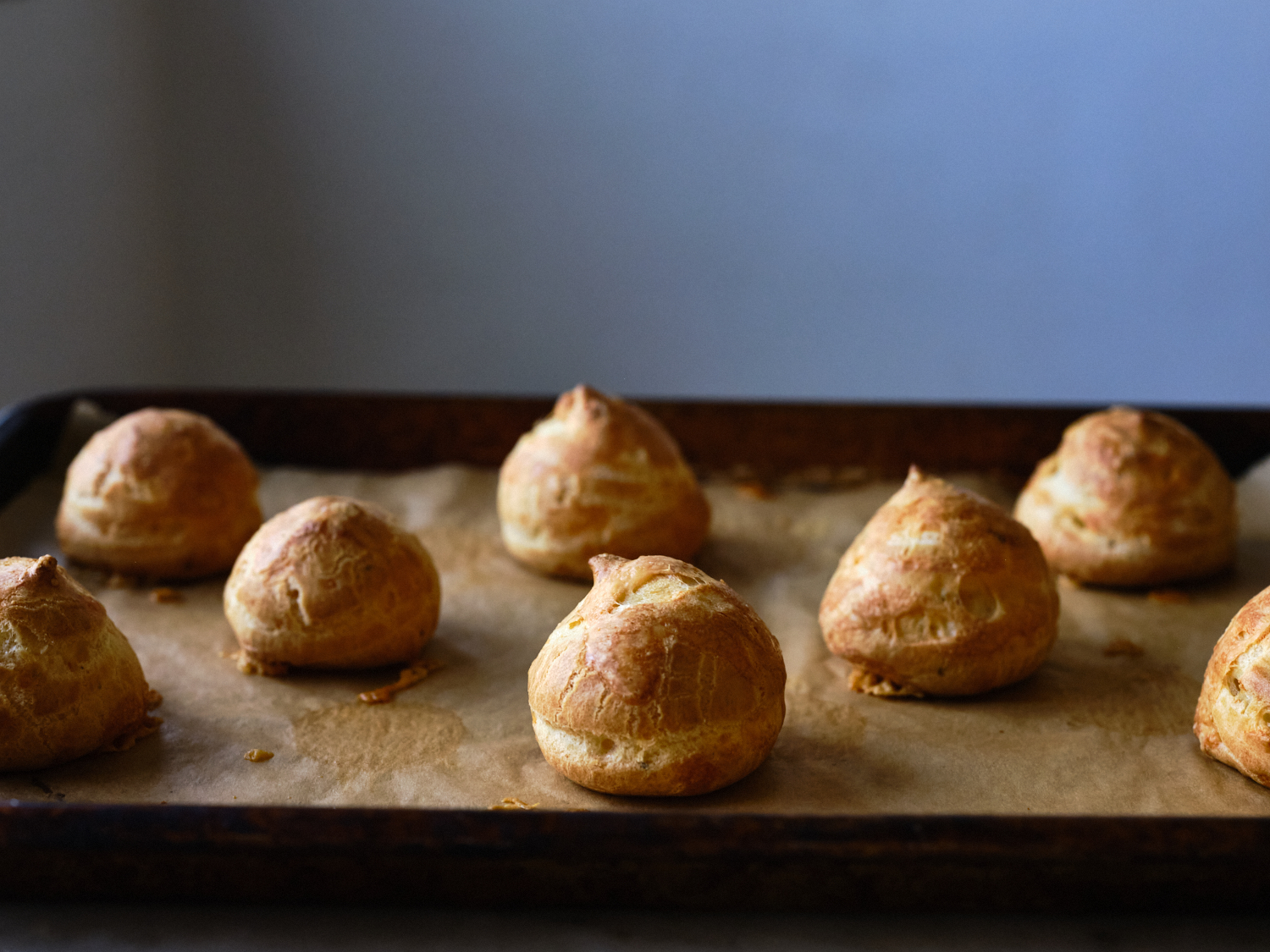 6. Alternately, if you aren't baking the gougères immediately, still shape the dough, sprinkle with cheese and freeze on tray for 30 minutes. Transfer to a freezer bag and store in the freezer until you're ready to bake. Bake straight from the freezer, as per above, but for a couple of extra minutes.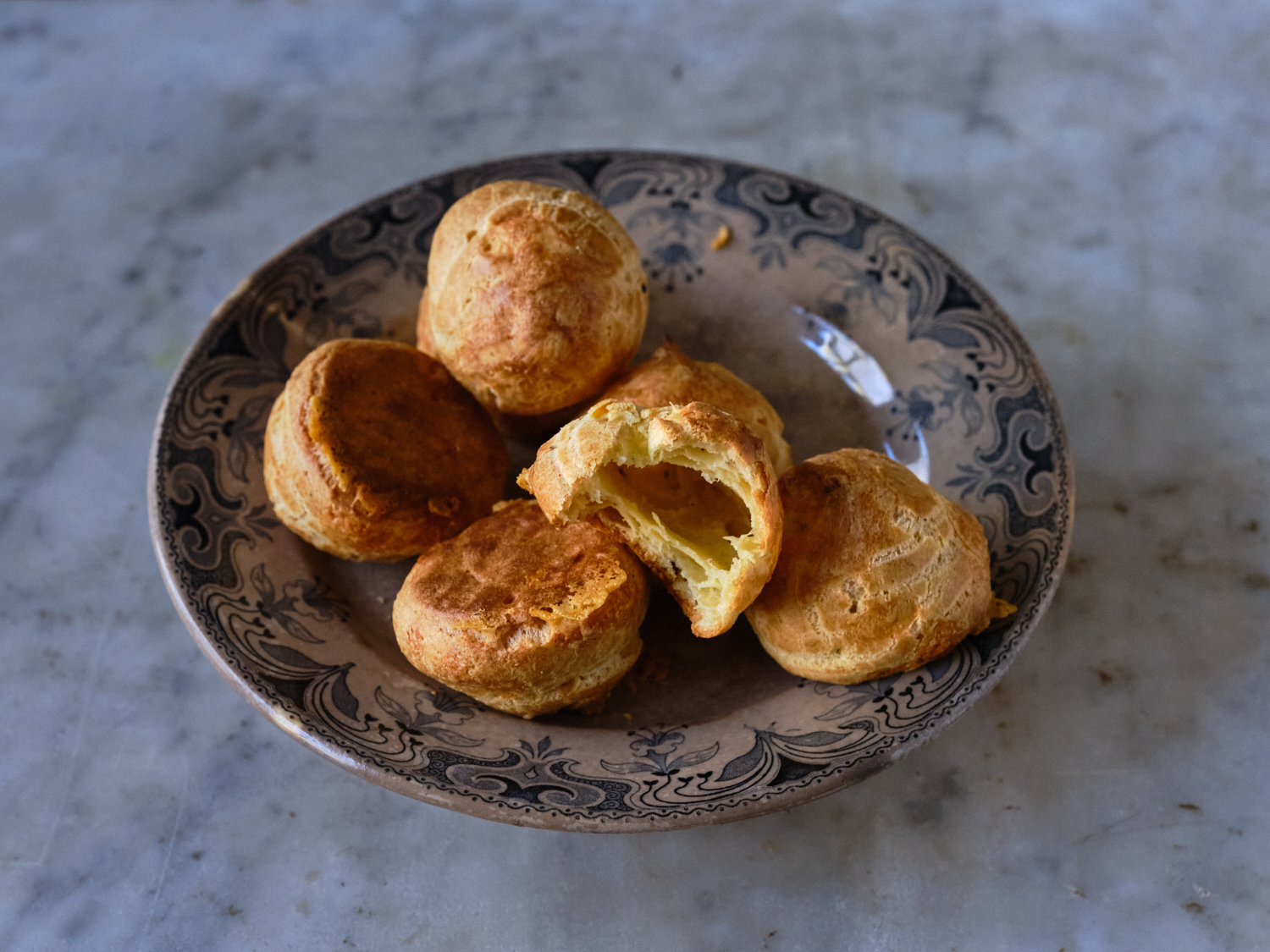 Sheree's Handy Hints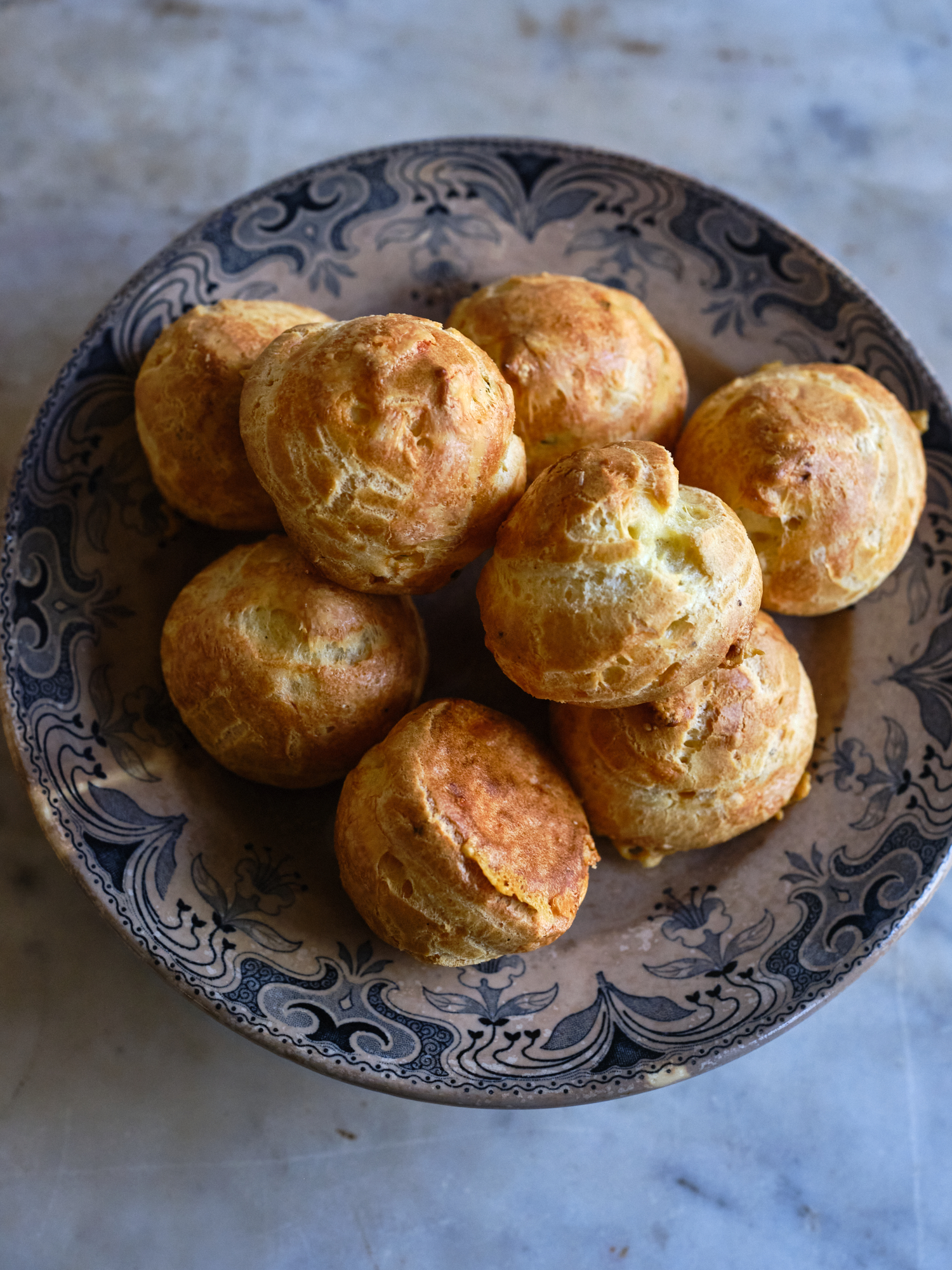 I made this batch with ale, a strong cheddar cheese, and one well-chopped serrano pepper. But the variations you can dream up are endless. Here are some more ideas:
Fennel and Cheddar Gougères: Add tsp crushed fennel seeds which go well with the beer and cheese.
Mustard Sesame Gougères: Add a couple tsp Dijon mustard and sprinkle the gougères with sesame seeds prior to baking. A tsp chopped fresh thyme wouldn't go amiss here.
Whole Grain Flour Gougères: Substitute in up to half the flour weight with whole wheat or rye flour.
Spicy Lemon and Cayenne Gougères: Use goat's cheese for the cheddar, adding the zest of an organic lemon and 1/2 tsp cayenne pepper.
See what I mean? Just start playing around and have fun experimenting!