Postcard from Milan: Part I
In early December we drove to Milan for dental appointments. This isn't a reflection on French dentists merely that a very good friend of ours, who has his practice in Milan, is a superb dentist and we prefer to avail ourselves of his services. We'd scheduled the appointments en route to our trip to Merano and Seefeld. We were away until just before Christmas and I really enjoyed chilling out in the mountains. But before that, we had a couple of days in Milan………never a bad thing!
We drove to Milan on Tuesday morning stopping only to top up our caffeine levels. My beloved had fortunately fully recovered from the virus he'd acquired on the previous Monday's trip to see the doctor for a medical certificate for his cycle club membership. That's right, you can't join or be a member of any sports' club in France without an annual certification.
As soon as he felt unwell he was socially distanced and we turned on our anti-pretty-much-everything machine. It did the trick as I swerved the virus. Meanwhile, I had to put up with him and his dying swan act. He couldn't have been too ill as he continued to demand three square meals a day and was well enough to watch the football! He was fortunately able to shop in his extensive home pharmacy to soothe his fevered brow. Whatever he took, did the trick.
Sadly, it wasn't enough to enable him to do his own packing and to prevent him piling the car high with everything and the kitchen sink.
Our plan had been to drive directly to the hotel to drop off the car and luggage and then walk through Brera to the practice. Unfortunately, thanks to heavy traffic and roadworks the typically three-hour drive took over six hours; meaning we drove directly to the practice.
Thanks to Covid, neither of us had seen either a dentist or hygienist for three years. However, regular brushing with BioMin F meant we had no build up of plaque, no sensitivity and a clean bill of oral health.
We drove back to the hotel and decided to eat in its restaurant, opting for the chef's fish menu, before enjoying an early night. Unbeknown to us, we had elected to spend time in Milan during a local holiday.
All Italian cities dedicate a holiday to their respective Patron Saints. Milan celebrates with a holiday on the 7th December, the day dedicated by the Church to honour the figure of Sant'Ambrogio, theologian, saint, bishop and patron of Milan.
The saint's real name was Aurelio Ambrogio and he was born in Treviri in 339 from an important Roman senatorial family. The family, Christian for generations, had originally intended he should follow an administrative career and directed him towards classical studies in the best schools in Milan. Appointed Governor of the Roman Province of Aemilia and Liguria, he distinguished himself for his oratory and administrative skills.
In 374 he became the Bishop of Milan by acclamation, adopting, from that moment on, an ascetic style of life and giving his own and the Church's riches to the poor. For his studies and his works in the theological field, he is considered one of the Doctors of the Catholic Church of the Latin age.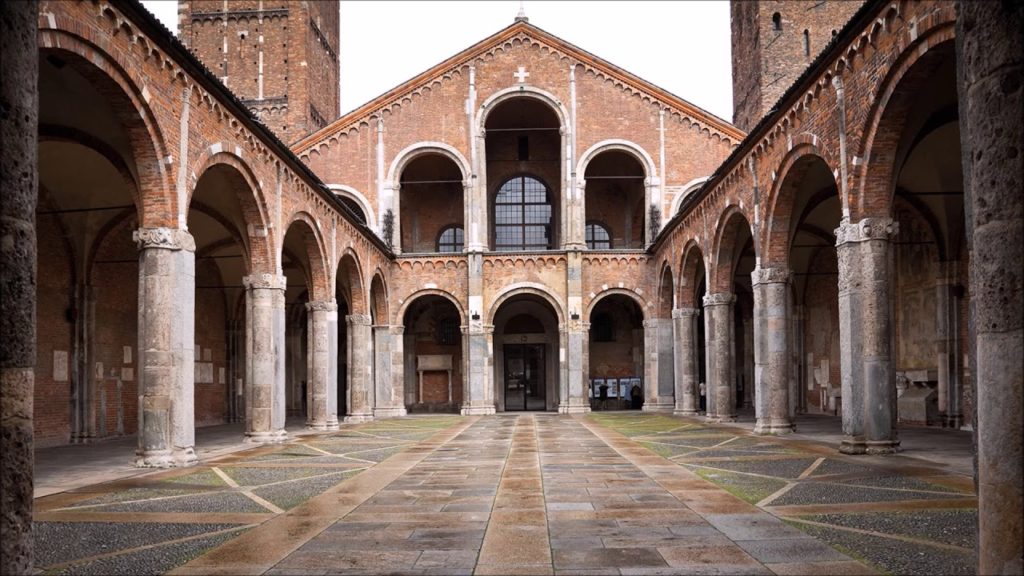 The basilica of Sant'Ambrogio, built at the behest of the bishop from 379 to 386, on the ground where Christians martyred by Roman persecution had been buried, is located in the square of the same name. It is the second largest church in the Lombard capital. Sant'Ambrogio was buried here in 397.
Like most religious celebrations these days, this one mixes sacred and profane elements. The religious celebrations are flanked by numerous events that take place on the same day, in different areas of the city. For example, he opera season is inaugurated at the Teatro Alla Scala.
Traditionally, being the day just before another holiday (8th December), the date also represents, for many Milanese an opportunity to go skiing in Austria. This meant our three-hour drive to Merano the following day was another six-hour marathon! I shall not be making this mistake again.