Friday's Tall Tales #3
Whenever I photograph a door I wonder about its provenance, who and what has happened across said door. I thought I might pick one of my doors from #Thursdaydoors and tell you a bit more about it or……weave a story around it.
Today's door is in Milan and has a plaque for the Milanese writer Alessandro Manzoni (1785 – 1873) who was born there and wrote I promessi sposi (The Betrothed) which had immense patriotic appeal for Italians of the nationalistic Risorgimento period and is generally ranked among the masterpieces of world literature – who knew?
The building is also the venue of a museum dedicated to Manzoni's life, the National Centre for Manzonian Studies and the Historical Lombard Society (that has over 40,000 volumes about the history of Lombardy).
Built in the 18th century, the palace was restored in 1864 by Andrea Boni in Renaissance Revival style, especially the red terracotta façade overlooking Belgiojoso square.
How it all began
After Manzoni's parents separated in 1792, he spent much of his childhood attending religious schools. In 1805 he joined his mother and her lover in Paris, where he moved in radical circles and became a convert to Voltairian skepticism. His anticlerical poem "Il trionfo della libertà" demonstrates his independence of thought. When his mother's lover and his father died, the former left him a comfortable income.
In 1808 he married Henriette Blondel, a Calvinist, who soon converted to Roman Catholicism, and two years later Manzoni himself returned to Catholicism. Retiring to a quiet life in Milan and at his villa in Brusuglio, he wrote a series of religious poems, Inni sacri (1815; The Sacred Hymns), on the church feasts of Christmas, Good Friday, and Easter, and a hymn to Mary. The last, and perhaps the finest, of the series, "La pentecoste," was published in 1822.
During these years, Manzoni also produced the treatise Osservazioni sulla morale cattolica (1819; "Observations on Catholic Ethics"); an ode on the Piedmontese revolution of 1821, "Marzo 1821"; and two historical tragedies influenced by Shakespeare: Il conte di Carmagnola (1820), a romantic work depicting a 15th century conflict between Venice and Milan; and Adelchi, a richly poetic drama about Charlemagne's overthrow of the Lombard kingdom and conquest of Italy. Another ode, written on the death of Napoleon in 1821, "Il cinque maggio" was considered by Goethe, one of the first to translate it into German, as the greatest of many written to commemorate the event.
Manzoni's masterpiece, I promessi sposi, 3 vol. (1825–27), is a novel set in early 17th century Lombardy during the period of the Milanese insurrection, the Thirty Years' War, and the plague. It is a sympathetic portrayal of the struggle of two peasant lovers whose wish to marry is thwarted by a vicious local tyrant and the cowardice of their parish priest. A courageous friar takes up the lovers' cause and helps them through many adventures to safety and marriage. Manzoni's resigned tolerance of the evils of life and his concept of religion as the ultimate comfort and inspiration of humanity give the novel its moral dimension.The novel brought Manzoni immediate fame and praise from all quarters, in Italy and elsewhere.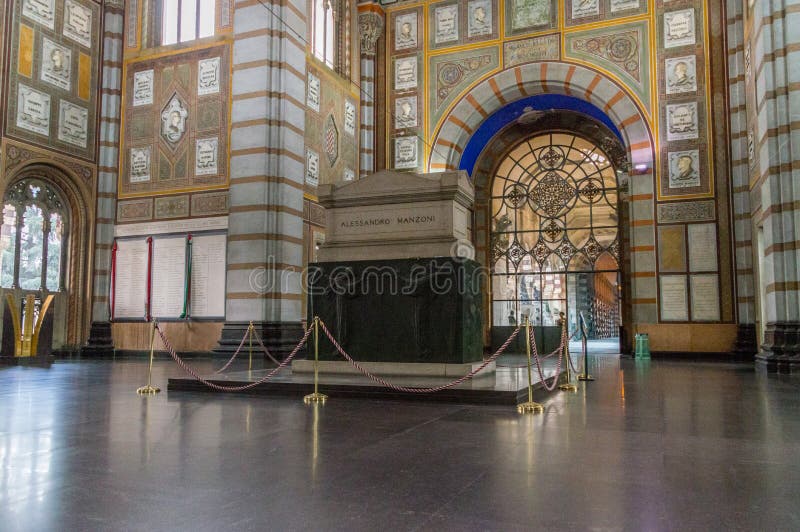 Manzoni's wife died in 1833; his second wife and most of his children also predeceased him. These calamities deepened rather than destroyed his faith. Revered by the men of his time, he was made a senator of Italy in 1860. A stroke followed the death of his oldest son in 1873, and he died that same year and was buried with a state funeral.