La Chandeleur
Today, 2 February, is La Chandeleur celebrated 40 days after Christmas Eve. The word Chandeleur evokes the French word for candles (chandelles) which were lit in Jesus's honour as the "light of the world". For those who are not religious, it is known just as crêpe day.
I shall be whipping up some for my beloved, most probably as crêpes Suzette!
You can find many classic French crêpe recipes on the internet. But if you want to take them up a notch, I'm delighted to share a few secrets on how to make great crêpes. These small details are guaranteed to make a big difference. And like all things food related, the French take crêpe making very seriously.
1. Alcohol
This isn't a secret to those from Normandie or Bretagneas friends from there gave me this tip. It's the small amount of dark rum/Cointreau or Grand-Marnier that gives a crêpe batter the x-factor. Without it, that je ne sais quoi won't be there at all. The only way to justify this is to taste one crêpe with rum and another one without. If you're worried about the ethanol, the heat will cook it off and make it alcohol-free.
2. Vanilla sugar
Using vanilla sugar, instead of sugar and vanilla separately, is a little trick that goes a long way towards simplifying baking. You can buy it but I make my own by storing all my used (and cleaned) vanilla pods in a container of caster sugar. With vanilla sugar, you get the exact flavour you need without either vanilla or sugar overpowering the other ingredients.
3. First add eggs, then milk, then gradually add flour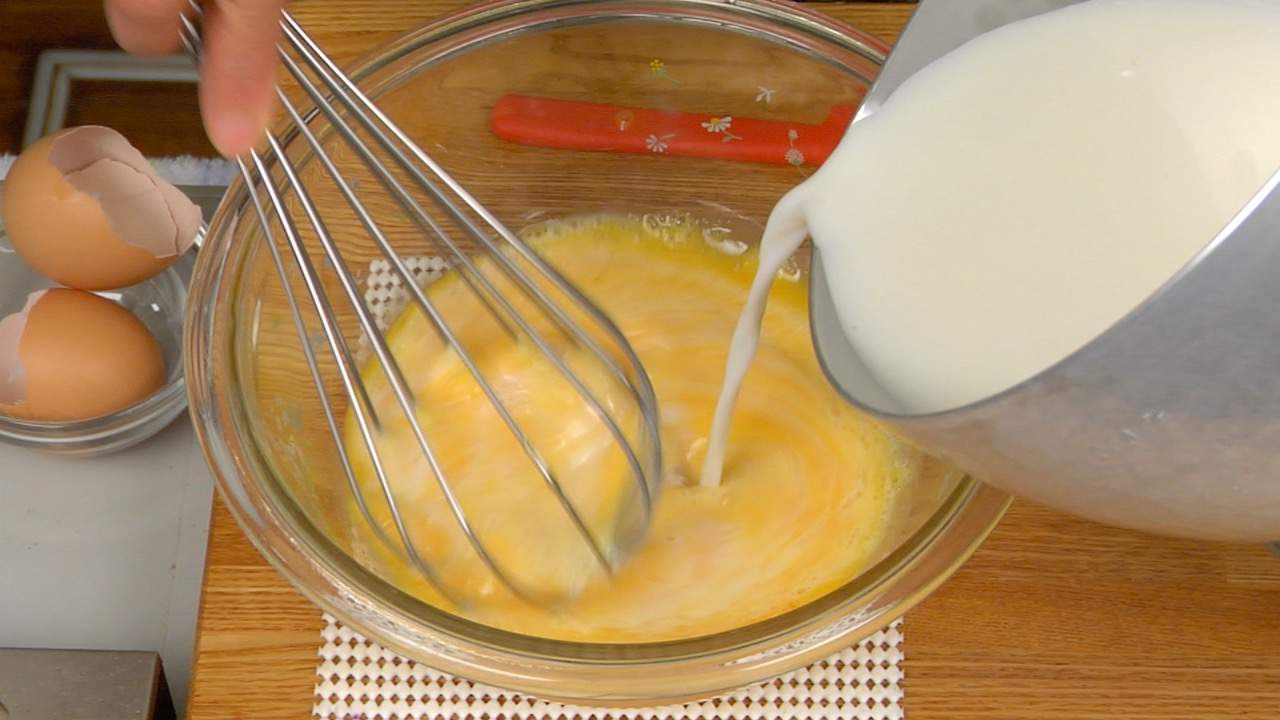 This is a bit like milk or tea into the cup first? Some recipes will specify adding flour first, then eggs and milk to the mix. Or the recipe might mention adding the 3 ingredients together without any further details. The batter should have a fluid consistency. To achieve this, the order in which you mix the ingredients is key. Mix the eggs and milk together first. Then slowly and gently add the flour while you whisk. Adding too much flour all at once will make your batter too thick. You also won't need an electric whisk if you follow this sequence.
4. Let the batter rest before cooking
Good things take time. One of the secrets to making great crêpes is letting the batter sit in the fridge for 12 hours or overnight. This gives time for the flavours to merge. Don't forget to mix it well again before cooking though!
5. If necessary, only lightly oil the pan 
It's not essential to have a crêpe griddle or pan, when you can actually use any flat pan you already have and still make perfect crêpes. In order to have a perfectly greased pan use a piece of kitchen paper on a fork dipped in oil to grease your hot pan before before pouring in the crêpe batter. Ideally you want to coat the pan with enough oil to make flipping easier, to achieve a fine crêpe texture, and to have those crunchy edges.
6. Flipping it
A batter spreader is not always necessary. With your pan's handle, you can maneuver your pan while you pour batter to spread it out. Remember not to pour in too much batter or your crêpes will be too thick. Your pan needs to be very hot too. Little holes in your crêpe are signs that you're on the right track and the crêpe is nearly ready to be flipped. To flip it, you don't always have to toss it in the air— rather, you can use any flat spatula to gently go under the crêpe and turn it over.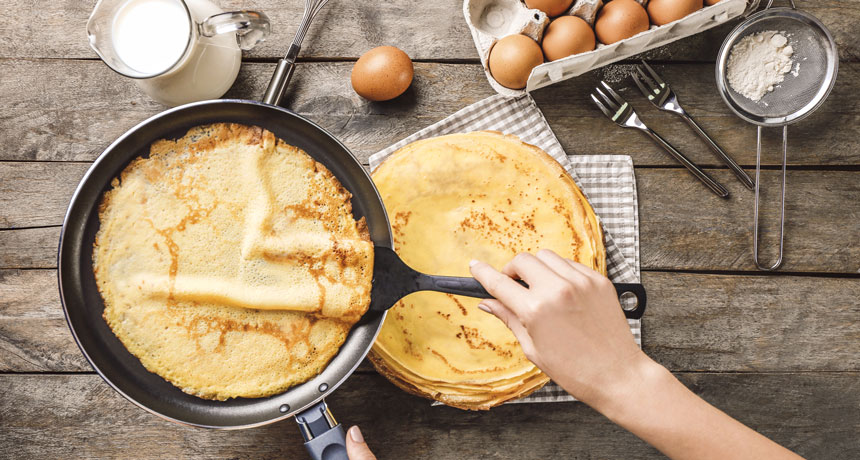 As with everything, practice makes perfect. You might not get a perfect crêpe on your first try, but you probably will on your second.