Friday's Tall Tales #5
Whenever I photograph a door I wonder about its provenance, who and what has happened across said door. I thought I might pick one of my doors from #Thursdaydoors and tell you a bit more about it or……maybe even weave a story about it.
Today's rather magnificent door belongs to L'hôtel Potockia, a private mansion located at 27 avenue de Friedland in the 8th arrondissement of Paris, built between 1878 and 1884. It's one of the most remarkable preserved examples of the style inspired by classical French architecture. Nowadays it houses the Chamber of Commerce and Industry of the Paris – Île-de-France region.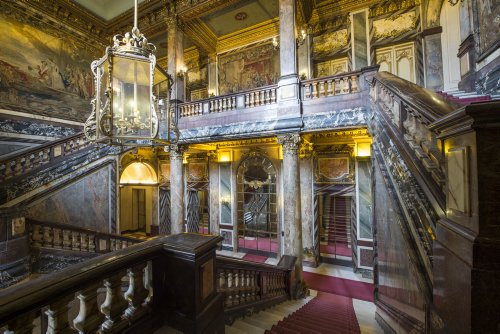 How it all began
Built in 1857 by Jean-Louis Renaud, architect of the Compagnie du Chemin de train from Paris to Orleans, it was acquired 10 years later by  Count Grzegorz Potocki, natural son of Polish Count Mieczysław Franciszek Józef Potocki. Count Grzegorz Potocki died in April 1871 in Saint-Cloud as a result of a wound caused by shrapnel from a German shell that fell in the courtyard of his home during the siege of Paris.
The building then passed to his father and, on his death in 1878, to his legitimate son, Count Mikołaj Szczęsny Potocki (1845-1921), who arrived in France around the age of 10. Mikołaj Szczęsny Potocki married an Italian, Princess Emmanuela Pignatelli in 1870 (1852-1930), whose father was the ambassador of Naples in Russia. They separated in 1887. Countess Emmanuela Potocka settled in Auteuil, where she died alone and in poverty in the 1930s.
In 1879 and 1882, the Potockis were able to enlarge their Parisian property by acquiring buildings located at nos. 14, 14bis and 16 rue Chateaubriand and no. 14 rue Balzac. They undertook to have the hotel transformed by the architect Jules Reboul. He rebuilt the entire facade on the avenue and completely restructured the building.
The outbuildings, located at no. 16 rue Chateaubriand, were famous, particularly the stables with mahogany stalls for thirty-eight horses and drinking troughs in pink marble. Sheds could hold up to fifty cars.
After the death of Count Mikołaj Szczęsny Potocki in 1921, the mansion and its outbuildings were sold in May 1923 by his cousin and heir, Count Alfred Józef Potocki, to the Paris Chamber of Commerce and Industry. Architects Paul Viard and Marcel Dastugue transformed the property 1925-27 for the CCI. The outbuildings were demolished  and two wings added in a style similar to that of the main façade.  A meeting room, a party room and a large dining room were fitted out by Jacques-Émile Ruhlmann, assisted by the sculptor Joseph Bernard and decorator Jules Leleu.
The Chambre de commerce et d'industrie de région Paris – Île-de-France was created on 1 January 2013, combining eight chambers of commerce of the area in and around Paris. The merger brought together six departmental CCI (Paris, Hauts-de-Seine, Seine-Saint-Denis, Val-de-Marne, Val d'Oise, Yvelines Versailles) and the two territorial CCI (Seine-et -Marne and Essonne).
Interior images courtesy of CCI