Have you ever made homemade pasta? If you have flour, two eggs, a splash of olive oil and a bit of salt, you can do it right now. You don't need special Italian pasta flours to make great homemade pasta, and you don't need to worry if you don't have a pasta maker. You can make pasta by hand with a basic rolling pin. I make pasta at home this way all the time, and this has become my go-to "everyday" recipe. It makes a wonderful, versatile dough that you can roll out into a range of shapes.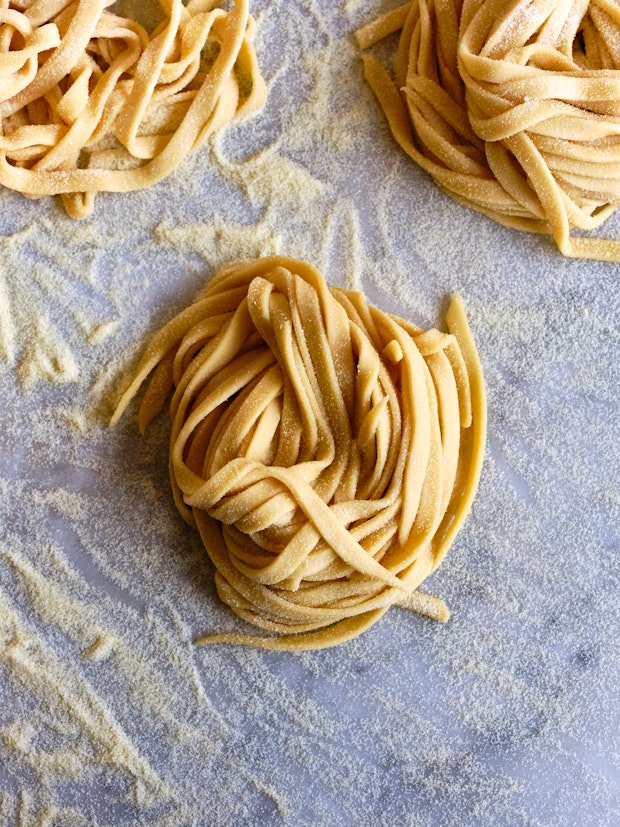 Ingredients (serves 4)
250g (2

cups)

 plain 

flour (all-purpose flour), semolina, "00" flour, T45, whole grain, or a blend)

2

 large organic 

eggs

1

tbsp

 

extra virgin olive oil

1/2

tsp

 

fine sea salt
Method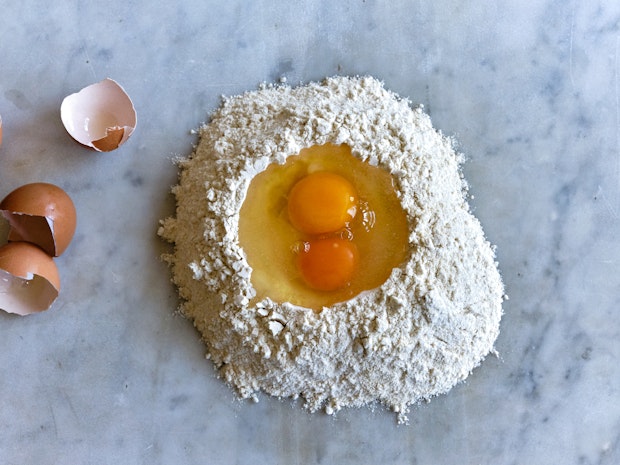 1. Start by making a mound of the flour directly on the worktop. Make a deep crater in the top and add the eggs, olive oil and salt. Use a fork to break up the eggs without breaking through the walls of your mound. You want to try to keep the eggs contained, but don't worry if they break through – use a spatula or bench scraper to scoop them back in. Work more and more flour into the eggs a bit at a time.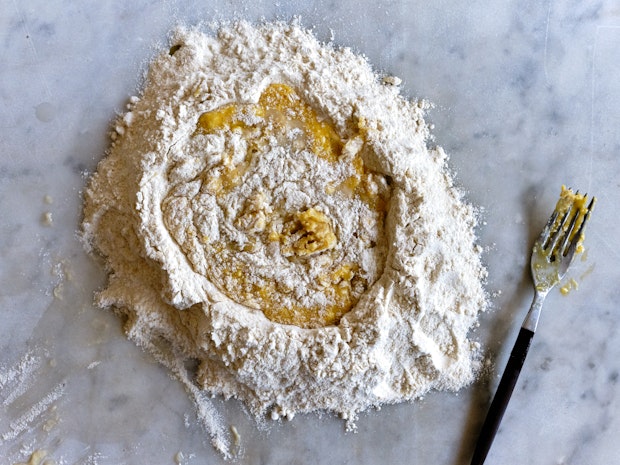 2. Drizzle 2 tbsp cold water across the mixture and keep mixing until the dough comes together. Depending on the flour you're using, you may not need more water. Some are a bit thirstier, than others.  Drizzle a bit more if you feel your dough is too dry though you want to avoid having a wet dough. I've found that a spray bottle is my favourite way to add water to pasta dough without adding too much. Use your hands to bring the dough together into a ball and knead for 7-10 minutes, until the dough is silky smooth and elastic.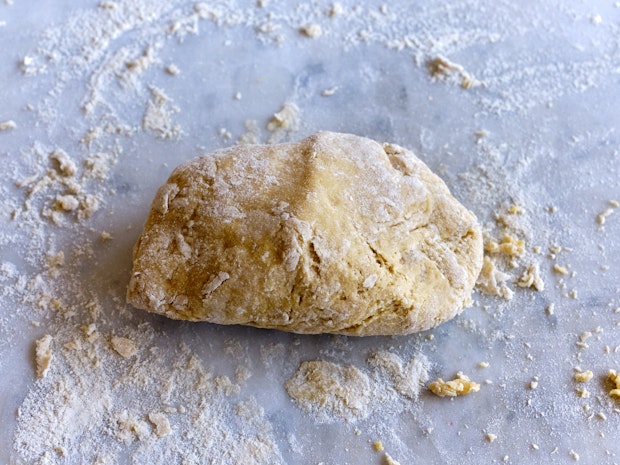 3. Form the dough into a ball and place in a plastic bag, alternately, wrap in cling film (plastic wrap). Allow to rest for 30 minutes at room temperature. Use Immediately, or refrigerate for up to a day.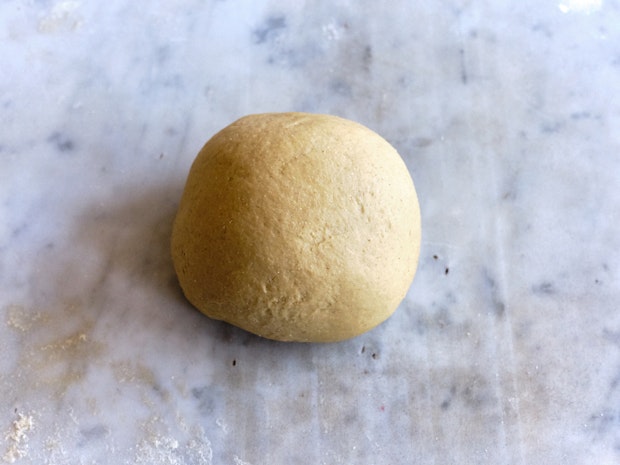 4. At this point either roll the pasta out thinly with a rolling pin or use a pasta maker. If your dough was refrigerated, bring it to room temperature before rolling out. After cutting the pasta into your desired shape you can cook the pasta immediately, dry it, refrigerate it, or freeze it at this point.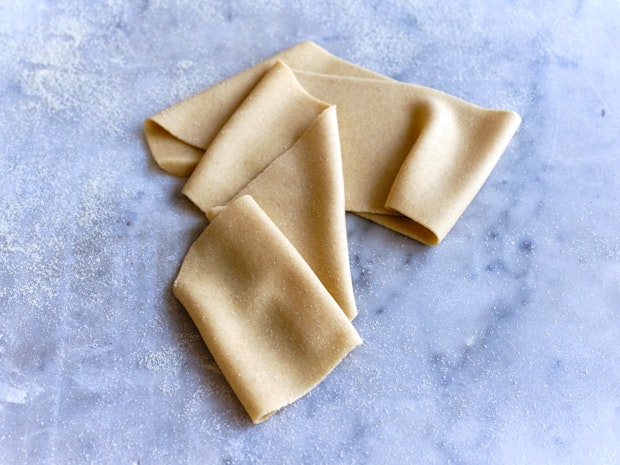 5. When you're ready to cook the pasta do it in a large saucepan of well-salted water. Depending on the thickness and shape of your pasta, this might just take a minute or so. Reserve a cup or two of the pasta water (in case you want to use it for a sauce), drain the pasta, and use immediately.
How To Make Pasta Using a Stand Mixer (my preferred method)
1.Add the flour, eggs, olive oil, salt and 2 tbsp water to the bowl of a stand mixer. Use the dough hook to knead on medium speed for 6-7 minutes. if you need more water, add a small splash at a time, just until the dough comes together, you want to avoid an over-wet or sticky dough. Mix until the dough looks silky, elastic, and smooth.
2. Form the dough into a ball and place in a plastic bag, alternately, wrap in plastic wrap. Allow to rest for 30 minutes at room temperature. Use Immediately, or refrigerate for up to a day.
3. Roll out your pasta dough and cook it as per 4 and 5 above.
How to make pasta without eggs
Of course, as a vegan, I generally make a pasta dough without eggs by combining the ingredients below in a similar fashion to above.
200g (1 2/3 cup) "00" Italian flour
200g (1 cup) semolina flour
200ml (3/4 cup + 1 tbsp) warm water
1 tsp fine sea salt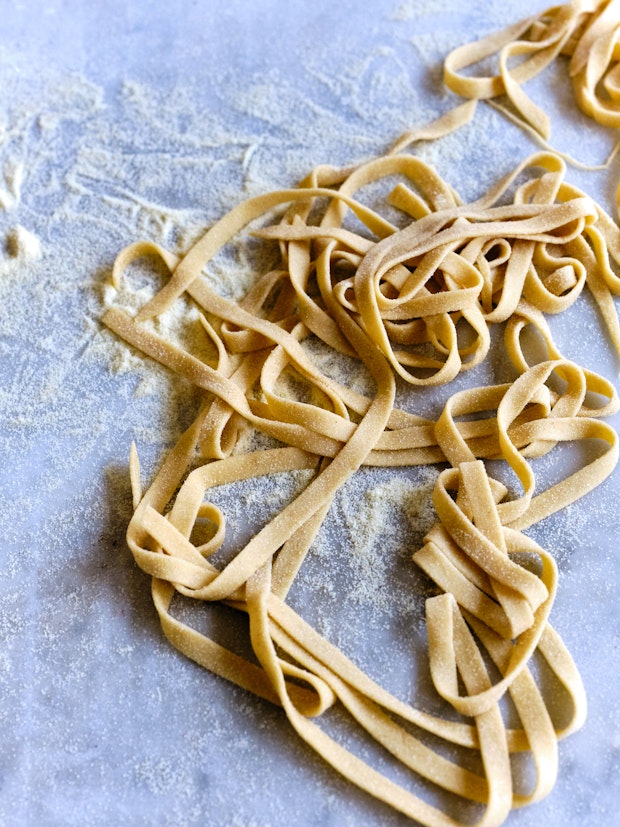 Sheree's Handy Hints
1.Simple Beet Fettuccine: An easy way to make flavour variations is to swap out the water in your pasta recipe with vegetable juice. I love this beet juice-spiked fettuccine, the beets lend a beautiful pink colour, and you can play around with how pale or saturated your noodles are by adding more or less beet juice.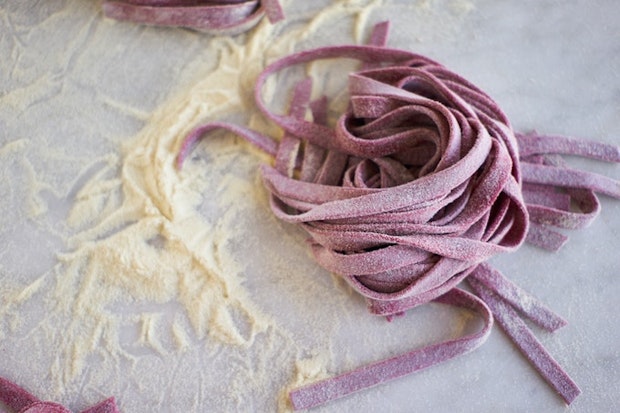 You can, of course, substitute other liquids, or use yellow (or orange) beets. If you have success with this pasta, use the recipe as a jumping off point for other flavours.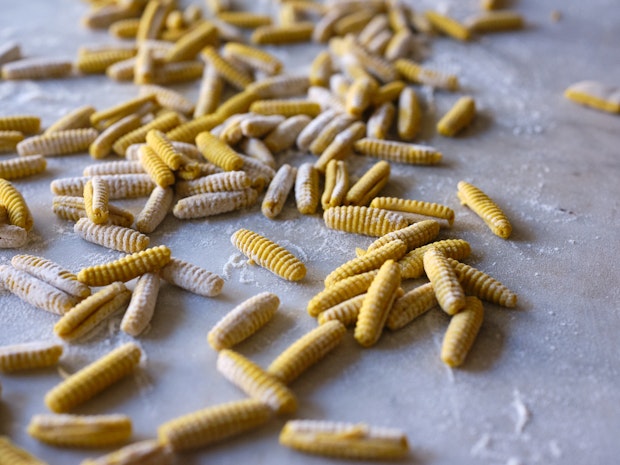 2. Cavatelli: Simple, homemade cavatelli pasta is one of the most fun shapes to make. You can use a basic dough, or do one spiked with turmeric and black pepper, and top it with roasted winter vegetables and Parmesan cheese.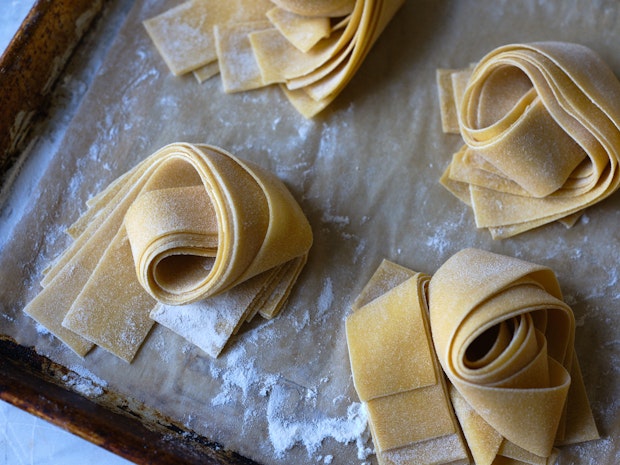 3. Pappardelle: Pappardelle is one of the pasta shapes I prepare most often. The easy-to-make wide ribbons sweep up sauces beautifully. Flecks of flavour, like zests and grated cheese, love to cling to the expansive surface area.
4. Shape: Play around with different shapes! You could make pasta ever day for a year, and never have to repeat.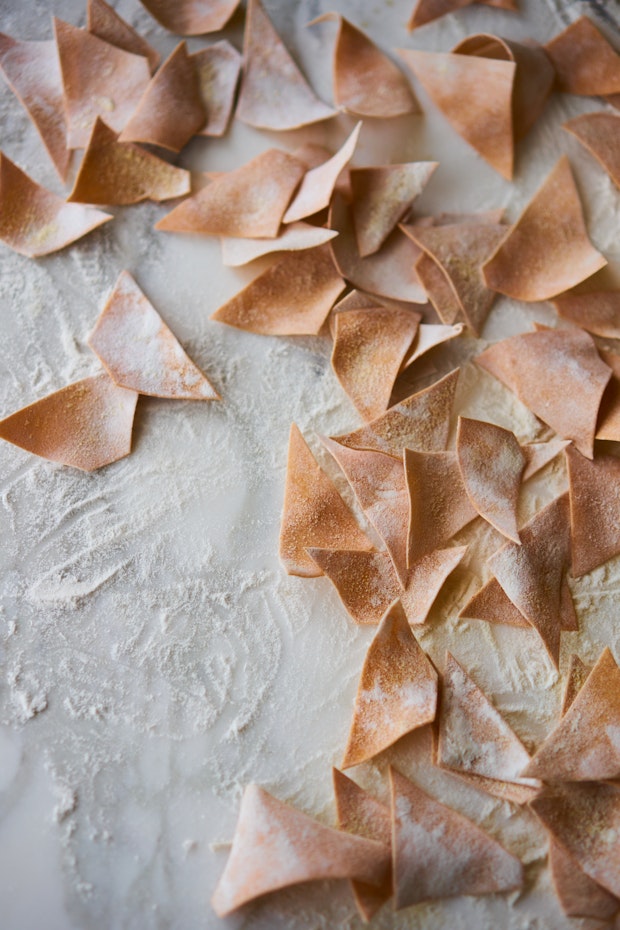 I hope this post has been helpful! Making fresh pasta at home is a simple pleasure that anyone can enjoy.