French Fancies: Philippe Tayac
I'm interrupting my series on family-run hotels because I have found something really exciting locally. The patissier above currently has one shop in Nice and a pop-up in Cap 3000 which is where we fell upon his fabulous patisseries. On further investigation we discovered that he'd begun his career in the kitchens of one of our favourite local restaurants (sadly no more) whose desserts we used to wax lyrical about, particularly their lemon tart.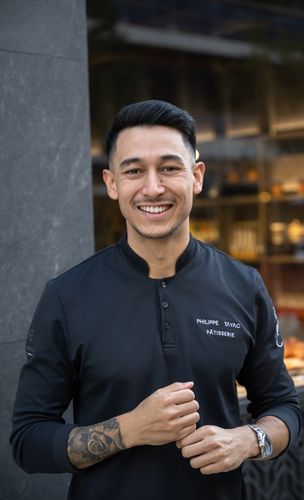 It might be said that France is currently enjoying a golden age of pastry. Today, cakes and desserts served in many restaurants and shops are true masterpieces. A worthy representative of this school of excellence, is the young pastry chef Philippe Tayac, who moved back to Nice to open his own establishment in the Carré d'Or district.
How it all began
Philippe Tayac, born in Nice to a Niçois father and an Indonesian mother, discovered the art of pastry at the age of 15, landing his first job in 2009 as a pastry chef at the organic Dame Nature restaurant in Saint Laurent du Var. This first experience propelled him through he doors of the famous 5-star hotel Le Negresco in Nice, where he successively became commis, demi-chef de partie and chef de partie pastry. He was awarded the bronze medal at the French dessert championship in 2013, after winning the title for the South-East region.
After having collaborated for several years with the Oetker collection group, of hotels, specifically at Eden Rock St Barth, at L'Apogée Courchevel, and at Château Saint-Martin & Spa in Vence. At the end of 2018, he joined Le Cheval Blanc St Barth, part of the LVMH hotel management group, where he spent almost two years as a pastry chef before deciding to return to his native Côte d'Azur. At the tender age of 24. Philippe Tayac is now flying on his own. Trained at the Paul Augier school in Nice, he follows in the footsteps of many contemporary cooking and pastry talents who, like him, have attended this school.
As one might he is part of this new generation of chefs who gets involved in numerous projects including creating the dessert menu of a trendy beach restaurant in Saint-Martin in the Caribbean, collaborating with a jewellery brand, while organising masterclasses in his workshop in Cagnes Sur Mer.
Tayac draws on his Indonesian roots to take his customers on a journey: vanilla, cinnamon and coffee punctuate his culinary creations, as evidenced by his exotic Pavlova. I should also mention L'Éclat: hazelnut shortcrust pastry, dark chocolate ganache, caramel and vanilla mousse from Madagascar; the Illustrious lemon tart: hazelnut shortcrust pastry, preserved lemons, local lemon cream and meringue; or the Scrat: hazelnut shortcrust pastry, hazelnut praline, milk chocolate ganache, hazelnuts and Papua vanilla caramel. Are those descriptions not making your mouth water?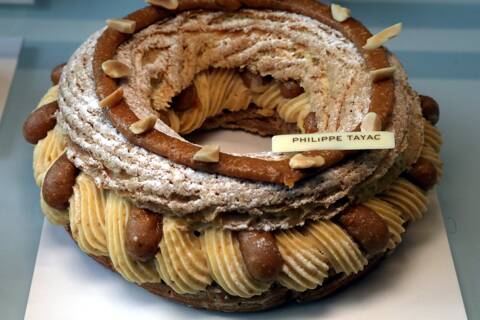 Don't get me started on his viennoiseries which are wonderfully laminated creations. Obviously, in the interests of research my beloved and I have undertaken extensive taste testing! Not for nothing is  this outstanding pastry chef being called the Côte d'Azur's Cédric Grolet and there are parallels in their divine works.
We're, of course, delighted that he's returned to his roots and set up shop in Nice which is rather like his baked goodies. It's a small but luxurious setting of dark and raw stone, surrounded by exotic wood, which perfectly highlights his creations, like jewels to be tasted and enjoyed with passion.
And, from our perspective., the good news is that he's planning to develop his network of shops and soon open addresses in Monaco, Cannes and Paris. And, for the rest of you, he also has ambitions to open international outposts. Meanwhile, I'm going to try to wrangle a visit to his Cagnes Sur Mer laboratory – wish me luck!
Most images courtesy of Philippe Tayac