One more of my many Postcards from Paris
I know, it's only just over three months since we were last here but, frankly, I could happily visit monthly. This is the first time we've taken a few days vacation to celebrate my birthday, rather than just lunch somewhere. My beloved proposed a number of options which were, of course, all places he wished to visit! I decided to enjoy a few days in the City of Light.
Booking the train tickets well in advance meant prices were a steal as was the hotel. Much as I would love to stay in one of the 5* hotels we frequent for refreshments and meals, I can't in all conscious spend that sort of money if I'm going to be out and about all day. So we stay in a 4* with a gym, great WiFi, comfy beds, that's quiet yet handily placed and surrounded by restaurants and bars.
I also wanted to go to Paris before the inevitable strikes (about increase in retirement age), we came back (phew) the day before they began.
We caught a slightly later train than usual to Paris so there was no need to get up with the lark. The journey was accomplished largely in sunshine though the sky did become overcast as we arrived in Gare de Lyon. Too late to enjoy lunch at Le Train Bleu, we dropped off our luggage and headed for the light show at the Jardin des Plantes, next to Gare Austerlitz, before enjoying dinner at a small, well-regarded neighbourhood restaurant I'd recently unearthed in 12th.
The following day I had booked lunch at Marsan, the Helene Darroze Michelin starred restaurant just round the corner from the Hotel Lutetia. We worked up an appetite for lunch by walking through the 5th and 6th arrondissements on the Left Bank taking in the Jardin des Plantes in daylight, the Pantheon and Jardin du Luxembourg on the way. Lunch was delightful, my beloved bought me another one of Helene's cookery books which she very kindly signed.
That afternoon the weather remained dry and we walked all the way back to the hotel where we enjoyed cocktails in its recently refurbished and expanded top-floor bar. My beloved was slightly disgruntled to discover the expansion had meant the loss of its gym!
The following day started with a walk through the Marais with a spot of window shopping, before heading for lunch at Le Tout Paris at Le Cheval Blanc which has officially become one of our regular Parisian haunts, largely because of its position on Le Pont Neuf.
Sated, we walked off our luncheon calories with an immersive exhibition at the Bourse de Commerce and the Walter Sickert exhibition at the Petit Palais. On our return, we took shelter from the heavier downpour at Le Meurice, home to Cedric Grolet, though I was (sadly) still too full from lunch to enjoy one of his delightful creations. We'd chosen Le Meurice for a cuppa because it serves my favourite Marco Polo tea. (Mariage Frères) That evening we enjoyed cocktails in the bar of Le Train Bleu.
Sunday was spent over in 16th at the Fondation Louis Vuitton to see its exhibition of Monet – always a crowd favourite – and Margaret Mitchell which was an interesting juxtaposition. We lunched in the museum's excellent Frank restaurant, enjoyed a potter in the surrounding gardens before visiting the St James's hotel, billed as the only chateau in Paris!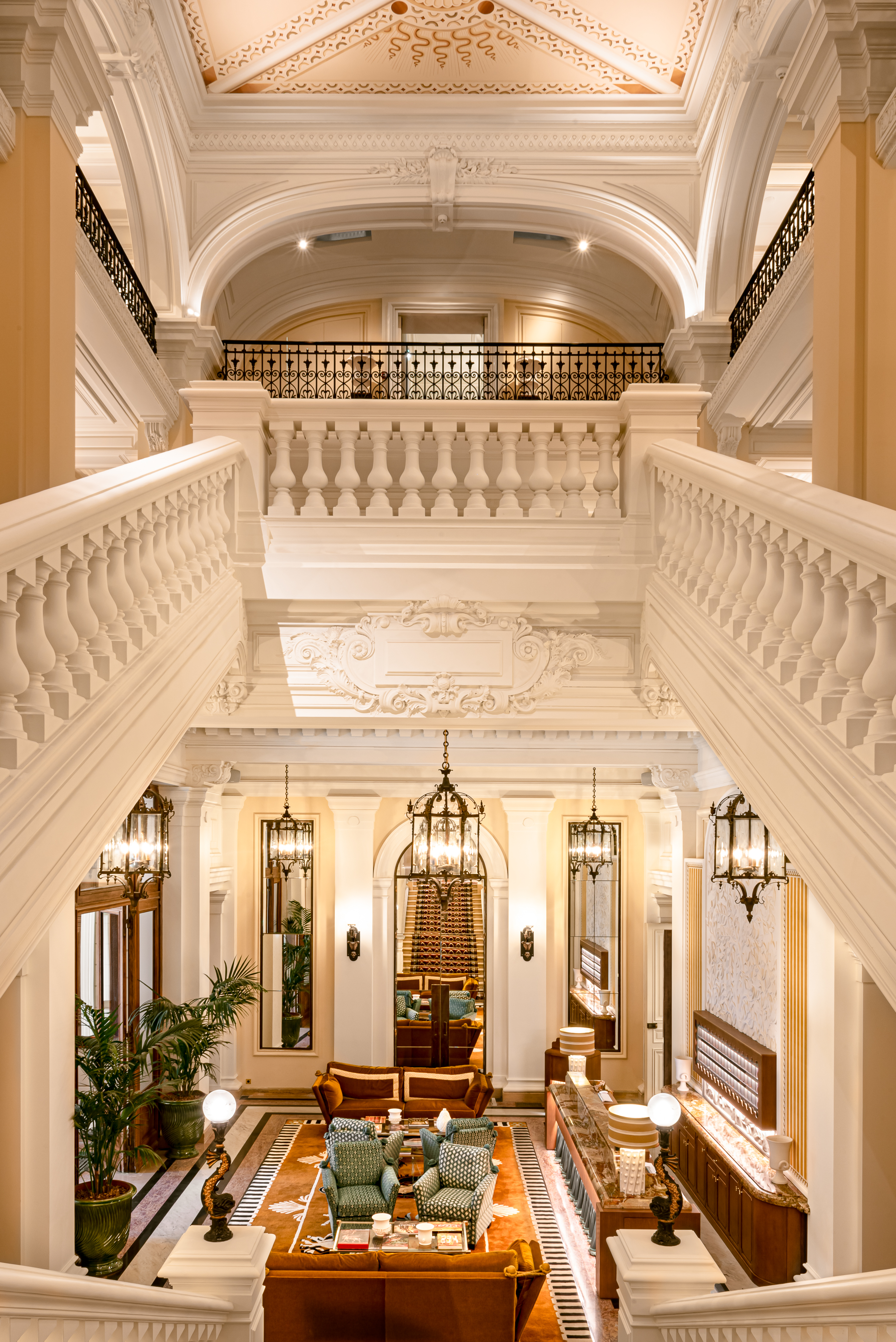 Monday morning my beloved had a business meeting and we agreed to meet at the recently re-opened Hotel de la Marine before walking to Le Bristol for afternoon tea. Despite the drizzle, I decided to walk to our rendezvous point as it gave me time to investigate the bookshops in the Rue de Rivoli – never, ever a bad thing!
On our final day, we visited the Musée Jacquemart-André in Boulevard Haussmann before wandering over to lunch in 2nd at Helene Darroze's other Parisian restaurant, Joia,  before the train back home.
All too soon our few days in Paris were over! We'd walked all over the place. I make my beloved wear his Apple watch so we know how far we've walked each day. We averaged 12-17km per day! Probably just as well given the fabulous meals we ate.