French Fancies: Astotel
I'm conscious that most of my family-run hotel groups provide expensive, 5* accommodation, but that's not the case with this group of 3 and 4* hotels in Paris which also provides some very useful extras!
How it all began
This adventure begins in 1961 when Leon Cachan bought the Hotel Astra Opera, at 29 rue Caumartin in Paris. Then the story continues with the acquisition of two other hotels by his sons George (left), Serge (right) and Jean-Pierre (centre) Cachan. They bought the Hotel Astoria in 1971 and then the Bergere in 1980. Together, the brothers created the group Astotel, which today boasts 17  three- and four-star Parisian hotels, comprising around 1,000 rooms.
Since forming the group, with Serge Cachan at the helm, he has structured his team's development towards ever more demanding standards, all while preserving the human aspect of the activity. The group has a cadre of very loyal employees (some for over 40 years!) and an impressively low industry turnover rate of 5%. Serge Cachan has learned to adapt his group to the demands of the industry, with design establishments that are always highly original, and a strategy resolutely oriented towards ensuring quality and ethical integrity, at a reasonable price.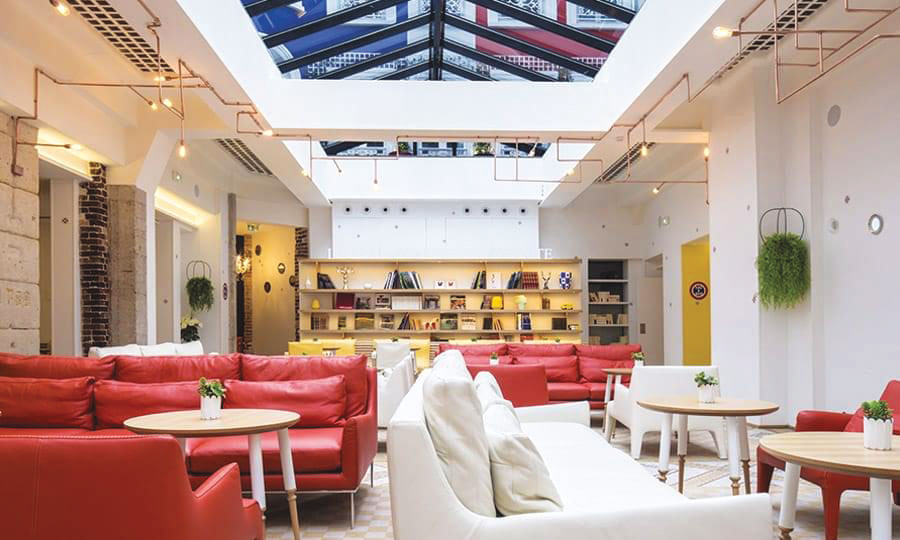 For this athletic family man and prize-winning tennis player, the hotel industry remains above all a career of service, one that places the individual at the heart of every consideration.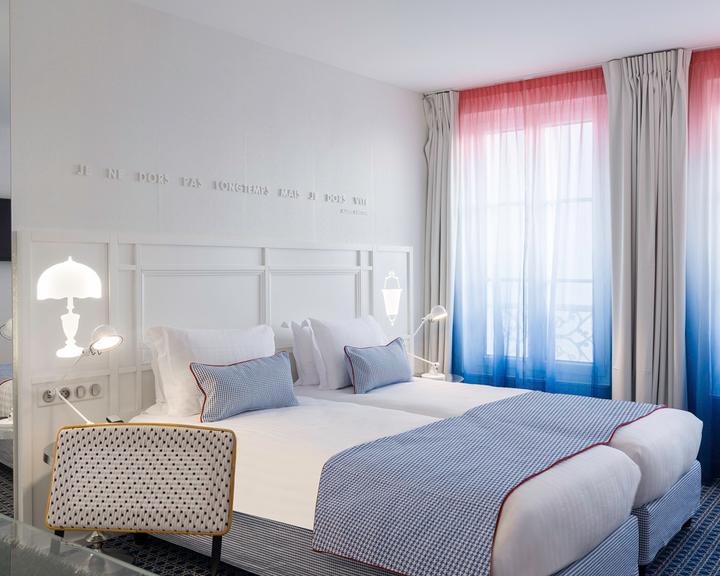 With the benefit of over 60 years of experience and some scale,  the hotels provide an array of services. For example, there's an open-bar offer each afternoon,  free Wi-Fi, free mini-bar (non-alcoholic drinks only) in all of their rooms and a pass which gives its customers access to the open-bars of all 17 Astotel hotels that they can use during their trip to Paris for a well-deserved break.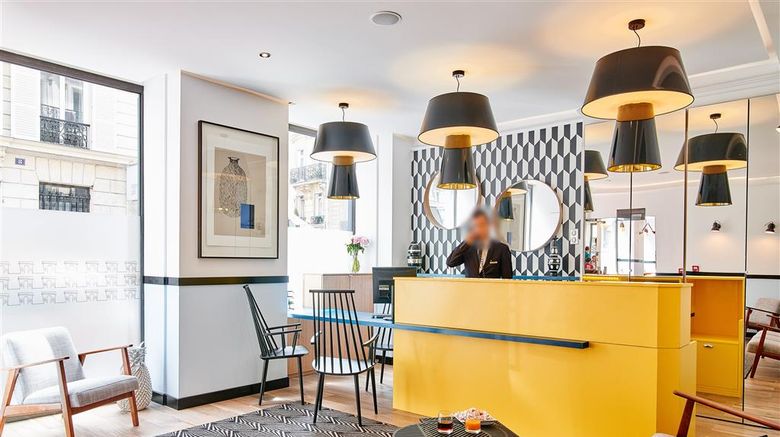 Unsurprisingly, the hotels' value-for-money is recognised on TripAdvisor. In 2022, all of its 17 hotels ranked among the 10% best establishments in France, six of its 3* hotels (Palm, George, Joke, 34B, Augustin et Joyce hotels), as well as all its 4 * hotels (Malte, Bradford Elysees, Regent's Garden, Le 123 Sebastopol and Le 123 Elysees hotels), appear in the Tripadvisor's top 50 .
In addition, its 4* hotels Malte, Bradford Elysees and Regent's Garden have been ranked 6th, 13th and 23rd of the top 25 of the best hotels in France during the 2022 Travellers' Choice Awards.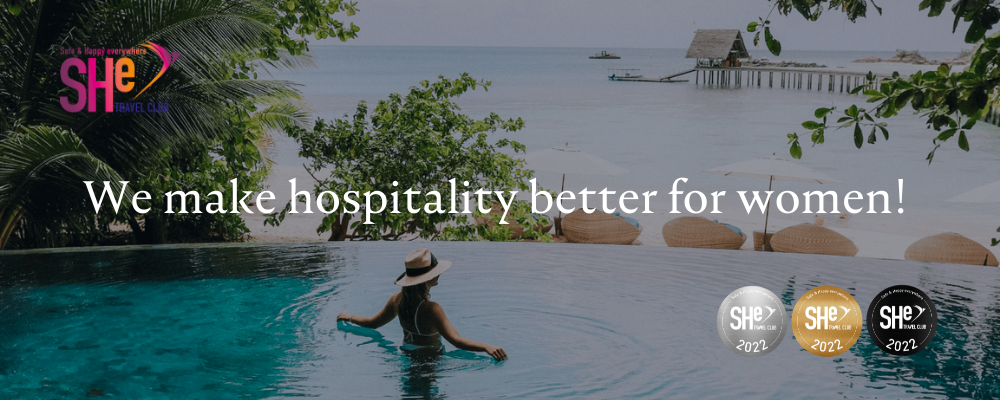 Astotel's commitment to its female travellers has been recognised by the SHe Travel Club certification programme, first organisation to offer a label 100% dedicated to female travellers' needs and expectations.
This programme provides a certification based on 4 main pillars:
1. Security: including criteria such as secure hotel and room's entrance, lit corridors, 24/7 staff or proximity to transport.
2. Comfort: including walk-in mirrors, handheld shower head or hygiene amenities available in room or upon request at reception desk.
3. Services & Amenities: such as concierge, fitness, sauna, minibar and open bar soft with diversified offers.
4. Dining & Entertainment providing diversified food and beverage offers.
Typically the brothers acquire existing hotels and refurbish them in a light and airy style. Most of these refurbishments have been carried out by architect Philippe Maidenburg whose firm specialises in the hospitality sector.
Maidenberg has worked with the Astotel Group in Paris on the design of fourteen hotels, beginning with a small part of Hotel 34B and including a full refurbishment of the Lorette Hotel. Maidenberg's partnership with the Astotel Group garnered national and international acclaim. Maidenberg has also worked for the Bessé Group (Hotel Bel Ami – St-Germain) and the Beaumarly Group (Gilbert & Thierry Costes).
His most recent design for Le123 Sébastopol Hotel was themed around films which given the hotel's location next to numerous movie theatres was very appropriate. The architect chose the artists and personally reached out to them with Serge's approval. The objective was not a marketing initiative but rather the desire to create an establishment that possessed a strong spirit and identity, without any ostentation, and that people would enjoy.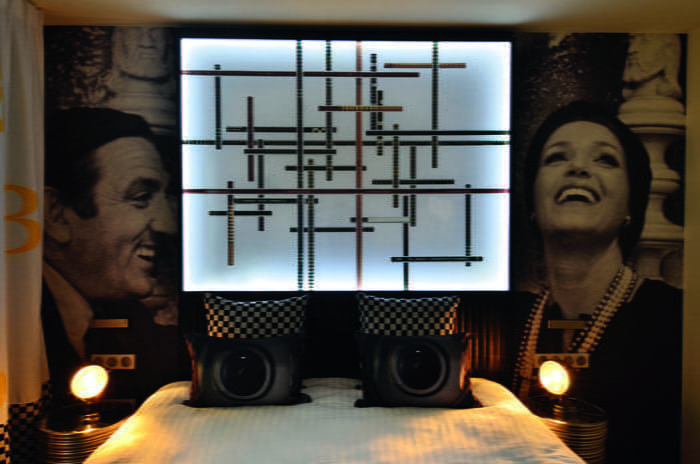 The architect and Serge met with each artist in person to explain their approach advising that they wanted was to pay homage to them, and they didn't want to do it without their consent and involvement.
The artists told them their stories, including the various themes that came to be precious to them along their artistic journey. Each décor started off this way, and the artists approved each stage of the creative process. They were very generous, sometimes giving the hotel personal objects, photographs, and original film scripts. For example, Ennio Morricone even faxed them an original score that they then enlarged and reproduced to cover the walls of the rooms that had been dedicated to him.
Then there was Danièle Thompson, who kindly shared with them her personal photographs from the set of her films with handwritten notes; or Claude Lelouch, who offered them handwritten notes and original film reels that you can find in the Lelouch rooms of the hotel.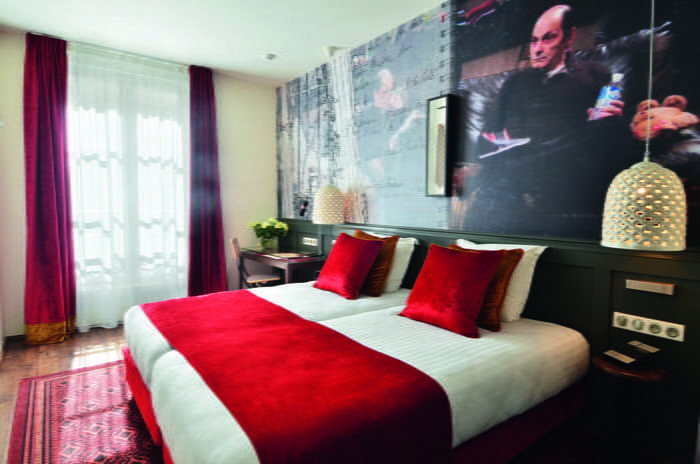 All images courtesy of Astotel