French Fancies: Evok Hôtels
If you're obsessed with design, you'll love the French Evok Hotel Group.
Faced with Airbnb's imposing, impersonal presence in Paris, Evok Hotels opened in 2016 to offer unique, community-focused lodgings that would appeal as much to locals as they did to visitors. Creating compelling hangouts has certainly been part of the group's success – Evok is known for its sexy bars and restaurants worth crossing the city for – as has its emphasis on luxury service and swanky designer interiors.
How it all began
The group was created in 2014 by Romain Yzerman with hospitality veteran and Managing Director Emmanuel Sauvage (pictured above), initially using property owned by Pierre Bastid. Each destination offers a different variety of luxury: classic French for Nolinski and Restaurant du Palais Royal, exclusive for Hameau de la Volière and Cour des Vosges, casual for Brach, and quirky for Sinner. The brand's ethos is to find a suitable location, revive it and give it a new lease of life thanks to designers such as Starck, Auer, Deniot, Tollemer, Lecoadic & Scotto, and more.
With a passion for the hotel business, Sauvage has developed a new vision of hospitality and service, guaranteeing the highest quality of attention with extreme personalisation, along with an impulsive spirit and a bit of whimsy, or even a taste for excess. He has discovered a subtle alchemy, cooking up a rare combination of people and styles. As for luxury, Sauvage wants it to mean different things to different people, for different hotels: a style of living for each style of luxury. As a result, each project has its own unique concept.
Since 2015, set in the Jardin du Palais-Royal gardens, right in the heart of historic, artistic and creative Paris, the Michelin-starred Restaurant du Palais Royal, decorated by Christophe Tollemer, pays homage to its environment. After being bought in 2014 by Evok, which invested nearly 2 million euros, the place has been completely redesigned. In the main room of 50 covers, there are works of art by Pierre Camille-Roy and large bay windows overlooking a garden, recreating a contemporary atmosphere in harmony with the gardens. Upstairs, the two private lounges are ideal for confidential lunches and intimate dinners. In fine weather, the terrace is transformed to welcome guests for lunch and dinner in the heart of the garden. On selected nights in the summer, it thrills to the sounds of Jazz Thursdays.
The cottages of Hameau de la Volière are available for rent together or separately. Here, the art of living in the French way is unveiled and is distinguished by decoration with contemporary lines mixing both old wood and stone. Set on the mountainside, with privileged access, they can accommodate up to 12 people per chalet. Spread over 5 floors fully equipped with high-tech home automation, the chalets have large rooms with large terraces or balcony. Many areas are dedicated to relaxation: swimming pool, spa, cinema room, billiards, library, large lounge or bar. Here  concierges, butlers, chefs, sports coaches and baby-sitters are on call.
The Group's first hotel, Nolinski, is a stone's throw from the Louvre museum and the expansive Jardin de Tuileries. Classic and refined, the boutique hotel is ideal for those looking for a quintessentially Parisian experience.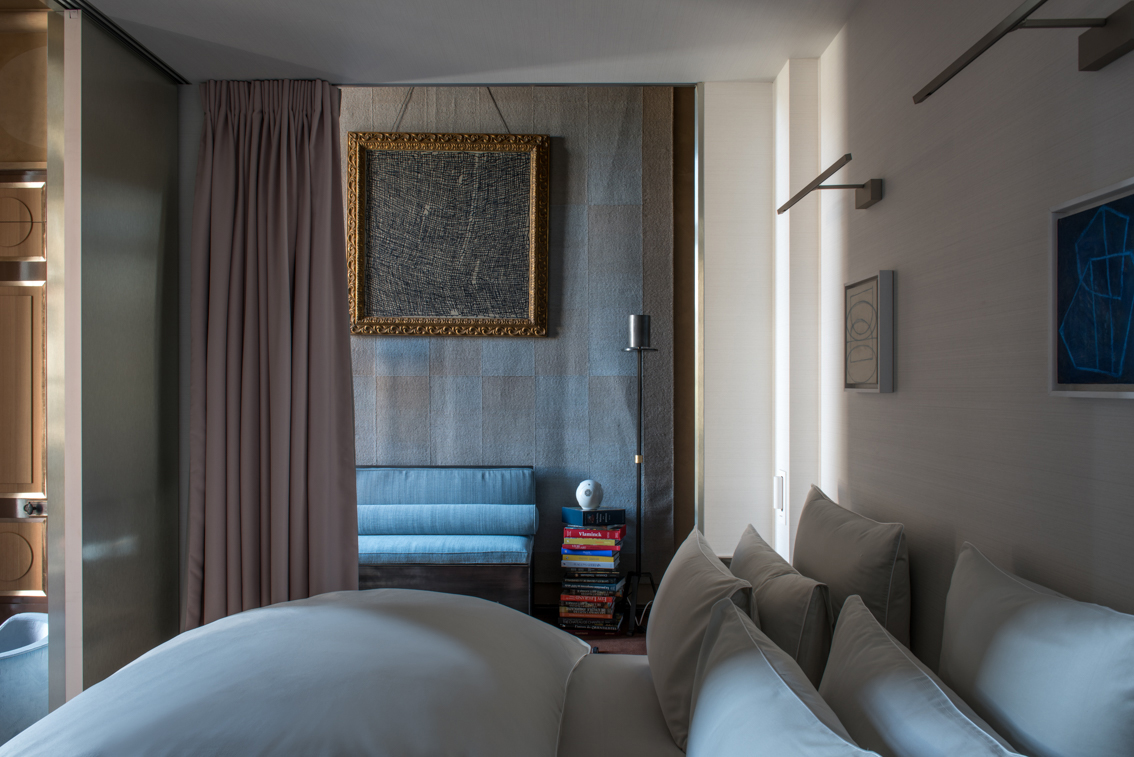 Meanwhile, history buffs will appreciate a stay at Evok's 12-room Cour des Vosges, located in a 17th century building on the city's oldest and my favourite square. Historical details abound, alongside carefully-curated art pieces, antiques, and collectibles. An afternoon on the tea room terrace overlooking Place des Vosges is a delightful treat.
On the opposite end of Paris, Evok tapped architect and designer Philippe Starck to transform a 1970s mail sorting centre into Brach, a dynamic hotel and sports club in 16th arrondissement where well-heeled Parisians flock to eat, drink, sweat, and see and be seen. Sunday brunch here is an event not to be missed, nor is the charming rooftop garden with excellent cocktails and stunning views of the Eiffel Tower (plus, a chicken coop).
Lastly, in the heart of the Marais, there is the aptly-named Sinner. Eclectic, opulent, and sexy, the Tristan Auer-designed hotel features dim, winding corridors, a Roman-inspired bathhouse and monastic touches. (The Justine suite includes a confessional booth overlooking the oxblood-tiled bathroom; there is another by reception.) After dark, the lobby transforms into a pulsating, smoky club with DJ sets nightly. 
The trio continue to develop Evok beyond the borders of France, with several upcoming international openings, including the Nolinski Venice, designed by Lecoadic & Scotto, and Brach Rome and Brach Madrid, by the one and only Philippe Starck.
All images courtesy of the Evok Hotel Collection