Friday's Tall Tales #11
Whenever I photograph a door or gate I wonder about its provenance, who and what has happened across said door or gate. I thought I might pick one from #Thursdaydoors and tell you a bit more about it or……maybe even weave a story about it.
This one very helpfully has a plaque which I have enlarged below.
How it all began
I don't know about you but I'd never heard of this composer. However, after a not inconsiderable amount of research, I did find out a bit more about Maurice. He was born in Rouen into a family of notaries. Despite being a keen student of the piano, which he pursued during schooling, he was destined to join the family firm. Though, in recognition of his excellent BAC (leaving exams) results, he was gifted a trip to Bayreuth where he was inspired by both Wagner and Beethoven.
After leaving the College Join-Lambert, he went to Paris to study where he qualified in both law and philosophy. While still studying, he moved into a flat at 43 rue Madame which was close to his university and also La Schola Cantorum where he'd met Vincent d'Indy with whom he started to compose music.
In 1911 he gave a concert of his works including, among others, Le Printemps, Hélas tout travail and La Prière du Poête et Extase. He continued writing and appears to have been fairly prolific until he was called up in 1914 to work in one of the military hospitals.
Presumably after the war, he returned to Paris and in 1932 took up residence in the above building. His daughter wrote a short book of his life so I assume he married and had a family all while continuing to compose and perform. I have however found his final resting place in 2nd division of the Père-Lachaise cemetery.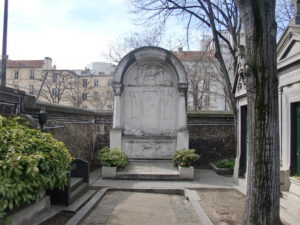 The plaque was put up the year after his death at the behest of Frédéric Dupont, a local dignatory.