French Fancies: Airelles Collection
The story of the Airelles brand began in 1988, in the heart of the French Alps, with the Les Airelles Palace in Courchevel. In 2007, Stéphane Courbit breathed new life into this and decided to take the innovative Airelles experience and vision to new destinations. The homely and welcoming hotels, each one with a strong and distinctive identity and plenty of history, all offer the immutable quality of exceptional and bespoke service. Today, the brand is proud to have a presence in iconic destinations such as Courchevel, Val d'Isère, Gordes, Saint-Tropez, Versailles Palace and soon, Paris.
How it all began
At the end of 2007, serial entrepreneur Stéphane Courbit sold his shares and left the management of Endemol France to create his own holding LOV Group (corresponding to the acronym of the first names of his three children) which has developed around five main activities:
1-Audiovisual Production (Banijay)
2-Online Games (Betclic)
3-Luxury hotels (Les Airelles, etc.)
4. Haute French Pastry and Gourmet Chocolatier (Ladurée and Maison Fouquet)
5. Château D'Estoublon (Great Wines with 17 hectares of vines grown organically and the production of Olive Oils with 120 hectares of olive trees).
6-Energy (sold to Total in 2018)
Like many wealthy entrepreneurs he decided to invest in real estate, specifically luxury hotels and restaurants often collaborating with other luxury hoteliers such as Société des Bains de Mer de Monaco and LVMH, both minority shareholders in the hotel group, named the Airelles Collection in 2017, after the first property Courbit acquired in what is now a bijou, eponymous hotel portfolio. It has become something of a passion for him as he's added to the portfolio.
Prestigious properties in historic destinations is the abiding idea behind the Airelles Collection.
Airelles, Courcheval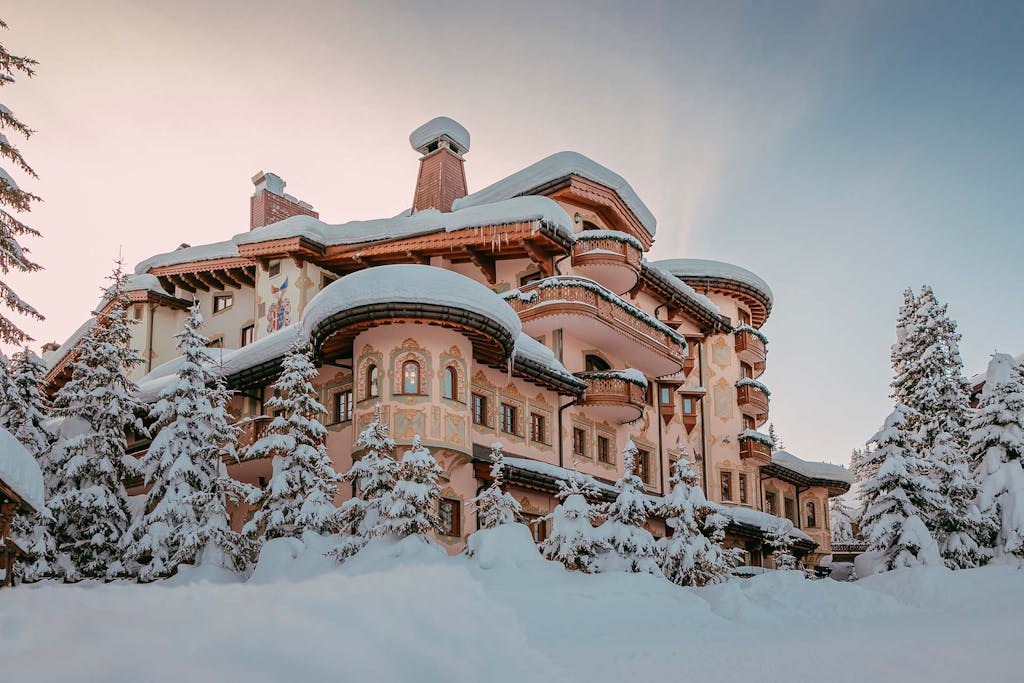 Courbit acquired the palace for 80 million euros in 2007 and invested around 50 million euros in the renovation and expansion overseen by architect Christophe Tollemer. In May 2011, along with its neighbour the Cheval Blanc, it was one of the first eight hotels to receive the new French distinction of palace. Located in a perfect spot just outside Courcheval 1850, where the magnificent ski slopes meet the Jardin Alpin. The ski-in/ski-out resort has privileged access to the slopes so guests can easily reach their favourite slopes. From the outside, this sumptuous hotel looks like a fairy tale Austro-Hungarian castle. Inside, the magic remains unbroken, thanks to the elegant materials, otherworldly murals and stained-glass windows that fill the property. It is a wonderland that comes alive each winter.
Les Airelles, Val d'Isère 
Val d'Isère is one of the most beautiful ski areas in all of Europe and sitting just at the edge of the Vanoise National Park is a hotel transporting guests to the ancient times of the magical kingdom of snow. The architecture is inspired by traditional Savoyard residences from a long, long time ago, and inside, architect Christophe Tollemer and art historian Emmanuelle Vidal-Delagneau filled the 41 rooms and suites and common areas with antiques that date back to the 15th century. This is a place where Vermeer replicas sit on rough-cast plaster walls, and the staff wears Savoyard chasseur outfits. The absolute piece de resistance is the hotel's main restaurant with dried flowers running all over tartan paneled walls to create the atmosphere of an enchanted forest.
La Bastide, Gordes
Sitting on the edge of Gordes, in the heart of the Luberon, La Bastide is a Provencal retreat with an 18th century atmosphere. It's a place for bucolic bliss with the most bewitching views. With its sumptuous scenery, Provencal market and handsome stone houses, Gordes is one of France's prettiest villages, and perched on medieval ramparts, in the heart of it, is La Bastide. The hotel is a portal to another time, with terraces and gardens that spill down the gorge, and interiors that retain their authentic Provencal character. Antiques, period lamps, wood panelling and acres of ancestral portraits. Provencal purists will also appreciate the burnished stonework and maze-like buildings, all with a mood that feels faintly 18th century. The hotel is home to just 34 rooms and 6 suites, and the restaurants are just as intimate.
Le Grand Contrôle, Versailles
The collection's opulent calling card, however, is Le Grand Contrôle. A 13-room-and-apartment luxury hotel, it opened in summer 2021 right on the grounds of the Château de Versailles. Frances' royal heritage is on display throughout the property where you can tour the restored libraries and explore the more than 900 original pieces of furniture from the 17th and 18th centuries. And enjoy unparalleled proximity to one of the most beloved historical sites in Europe. Guests get to explore 2,000 acres of Versailles grounds on their own and take one of the twice-daily privately guided tours (before and after hours) of the Hall of Mirrors or the Queen's apartments included in the room rate.
Château de la Messardière, Saint-Tropez
This 19th century château has long been a celebrated for its role as a five-star palace hotel on the hilltop skirting Saint-Tropez. The hotel's two-year long transformation was led by the French architect and interior designer, Christophe Tollemer, who was also responsible for the design of Le Grand Contrôle. For this property, Tollemer drew inspiration from the glamorous golden age of the French Riviera.this hotel houses 103 rooms and suites making it Saint-Tropez's largest hotel, which all come with private terraces, along with two signature suites and a duplex villa featuring private pool. The hotel's spacious terrace now has a brand-new 25-metre outdoor lap pool with views over Pampelonne Bay.
Pan Deï Palais, Saint-Tropez
One of the most coveted addresses in Saint-Tropez, Pan Deï Palais lies at the heart of the old village on Rue Gambetta, just a short walk from Place des Lices and the harbour. This mansion dating back to 1820 stands out for its stylish interiors fusing contemporary design with Indian influence. In its new chapter with Airelles, the hotel has emerged from a complete redesign of its garden and pool area as well as a refurbishment of its  interiors. Pan Deï Palais reflects the story behind its creation through its distinct design. The exiled Jean-François Allard whose journey led him to Egypt, Persia and Pakistan, and who was then made Head of the Armies, fell in love with Princess Bannu Pan Deï when she was captured during the siege of the Himalayan fortress of Chamba. In 1835, he commissioned this home in his home village of Saint-Tropez for the princess. To this day, the property is decorated in honour of that love story.
In 2021, LOV acquired the 5* Hotel Palladio in Venice and in 2022 the Hôtel de la Résidence du Roy, a 4 * hotel located on rue François 1er in the 1st arrondissement of Paris. Both of which are currently being renovated, no doubt by Christophe Tollemar.
I don't know about you, but I get the impression that Courbit's Airelles Collection comprises hotel's where he'd like to stay. Wouldn't we all!
Images courtesy of Airelles Collection