French Fancies: Paraboot
I love classic, comfortable, timeless, well-made shoes and these totally fit the bill.
"Hype" and "classic" are two words that rarely feature in the same sentence, but when discussing Paraboot, the forward-thinking French shoemaker founded in 1908, they're justifiable. In regards to the former, the hype is real: Paraboot's instantly recognizable design, which toes the line between ruggedness and refinement, is worn by everyone from your average Alsatian farmer to trend-setting Japanese menswear aficionados. As to the latter, the fact that its best-selling model has been in constant production since 1945 says it all.
How it all began
The founder of Paraboot, Rémy Richard, was born in 1878 in the shadow of the Alps in the town of Izeaux. Shoe and boot-making was the main industry in his hometown and by the late 1800s, Rémy was a skilled cutter for one such brand. Despite the rural nature of his hometown and its proximity to some of the greatest skiing and hiking in the world, most of the shoes Rémy worked on were for city slickers in some remote (to him) region of France.
Richard realised that the real money was to be made in big cities, where contractors simply handed over their designs to these rural factories and reaped the rewards. So, he tried to do he same thing. He headed to Paris with some models of his designs and within a few years, he was contracting out to the very same factory he had just left. By 1908, he was catering to some prestigious clients in Paris and began to form his very own brand.
In 1910, Richard found love and seed money for his new business when he met his wife, Juliette Pontvert. Her father was a wealthy notary and her dowry provided the investment necessary to found Richard-Pontvert, the company that oversaw his first brand: Chaussures Extra. At this point, the shoes were high-end and rather dainty, as you can see above. The company wouldn't become Paraboot or reach its full potential until Richard took a trip to the US.
Richard was a well-traveled man, who frequented trade shows and world fairs to get inspiration and scout new technologies. When he came to the US in 1926, he arrived in the midst of a rubber frenzy. Rubber was the hottest new material on the market, now that vulcanisation was becoming more widespread.
Upon his return, he began laminating latex onto his boots, making them 100% waterproof. This was done by hand and it was a painstaking process that likely produced a swelteringly hot boot. These early attempts of using rubber on footwear were often notoriously sweaty and uncomfortable.
Unbeknown to Richard, someone else was already doing this. Hiram Hutchinson of England was, with Charles Goodyear's patent on vulcanisation, developing the rubber rain boots that would become the Aigle brand. But Richard soon found a better use for rubber.
Richard developed lugged rubber soles eleven years before Vitale Abrami founded Vibram, which is why, to this day, Paraboot's soles bear an "RP" for Richard-Pontvert, instead of the ubiquitous Vibram logo. Harder wearing and better in almost every situation than the leather and sometimes wood outsoles used elsewhere in France, Richard was in the vanguard of a new wave of footwear design.
In 1927, Paraboot finally came into being. "Para" for the port in Amazonia from whence the company's rubber was supplied and "boot" to memorialise the discovery Richard made in America. Richard continued to manufacture elegant, leather-soled shoes under the "Extra" line, but all Paraboots going forward would have their signature chunky, grippy leather soles.
In 1937, Julien aged just 20, Rémy's son, took over the family business and he could not have started at a worse time. World War II would ravage France for almost a decade and Paraboot very nearly went under. Liberation didn't exactly help either, as new, cheap synthetic options entered the market. The relatively high-end Paraboot brand didn't fare well. But Julien stuck to his guns. He continued sourcing leather from the best tanneries in France and made Norwegian-welted shoes that were popular with outdoorsmen and blue collar workers.
In 1945, Paraboot released the Michael, a style that didn't quite align with the brand's focus on workwear, but became an enduring classic nonetheless.  With heavy, work-ready leather and thick soles, Norwegian-welted to the upper, the shoes were marketed as a hiking shoe and Paraboot was so confident in their shoes that they guaranteed they would last at least 10 months repair-free.
Though the average consumer was drawn to a lower-end product in the postwar era, avid sportspeople knew they needed the very best footwear on the market. Paraboot created Galibier, their hike and ski sub-brand, which did very well during renewed interest in the outdoors. Galibier thrived until the market took a dive in the 1970s.
In 1973, aware that he had been focusing on products and contact, rather than on management, taking little interest in profits or financial ratios, Julien called on his son Michel – a graduate with experience in the world of multinationals – to streamline the company that had fallen into the trap of the post-war years. Simply-put, his task was to save Paraboot, prolonging a legacy for future generations without major loss to business. To cut a long story short, Michel's six year battle with cost-balancing, elevated brandwide productivity and core staff streamlining resulted in one rejected file for bankruptcy. The Unions and Trade tribunal believed a recovery of Paraboot was possible – so, in 1983 Michel hatched a plan.
Whilst negotiating with the trade tribunal, 4th generation Michel Richard went to Italy in search of more efficient equipment and to understand the methods of his most formidable Italian competitors. The Italian stylists of a fashion distribution firm Michel had been negotiating with decreed that men needed a thick-soled shoe, made from decent materials. Although they had all they needed in Italy, they chose the Michael model by Paraboot. Orders flooded in, ensuring that Paraboot is where it is today: one of the world's finest leather bootmakers. Although the two historic factories in Izeaux and Fures are now closed, a new modern facility in Saint Jean de Moirans has guaranteed that Paraboot continues to craft rugged, versatile footwear of the highest order.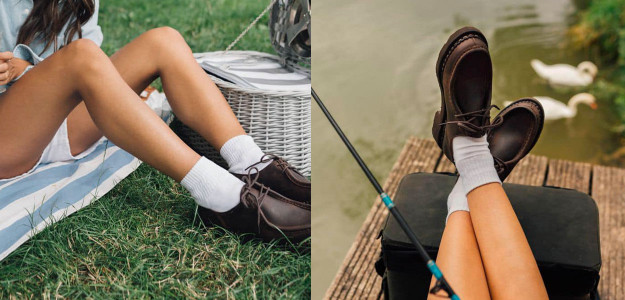 Paraboot  introduced a women's line and now sells over 120,000 pairs annually through over 800 points of sale, including its own retail outlets, worldwide. There have also been an array of successful collaborations with some of the biggest brands of the day, such as Arpenteur, Beams, Barbour, Aime Leon Dore, and YMC. Paraboot is more than just footwear, Paraboot is the result of four generations of product development.
All images courtesy of Paraboot