Comparing Apple to Orange
We all know it's important to compare things that can reasonably be compared – apples to apples, for example – and whose comparison will give you meaningful results. Similarly, the phrase comparing apples to oranges applies when the attempted comparison is flawed or impossible. But is it………..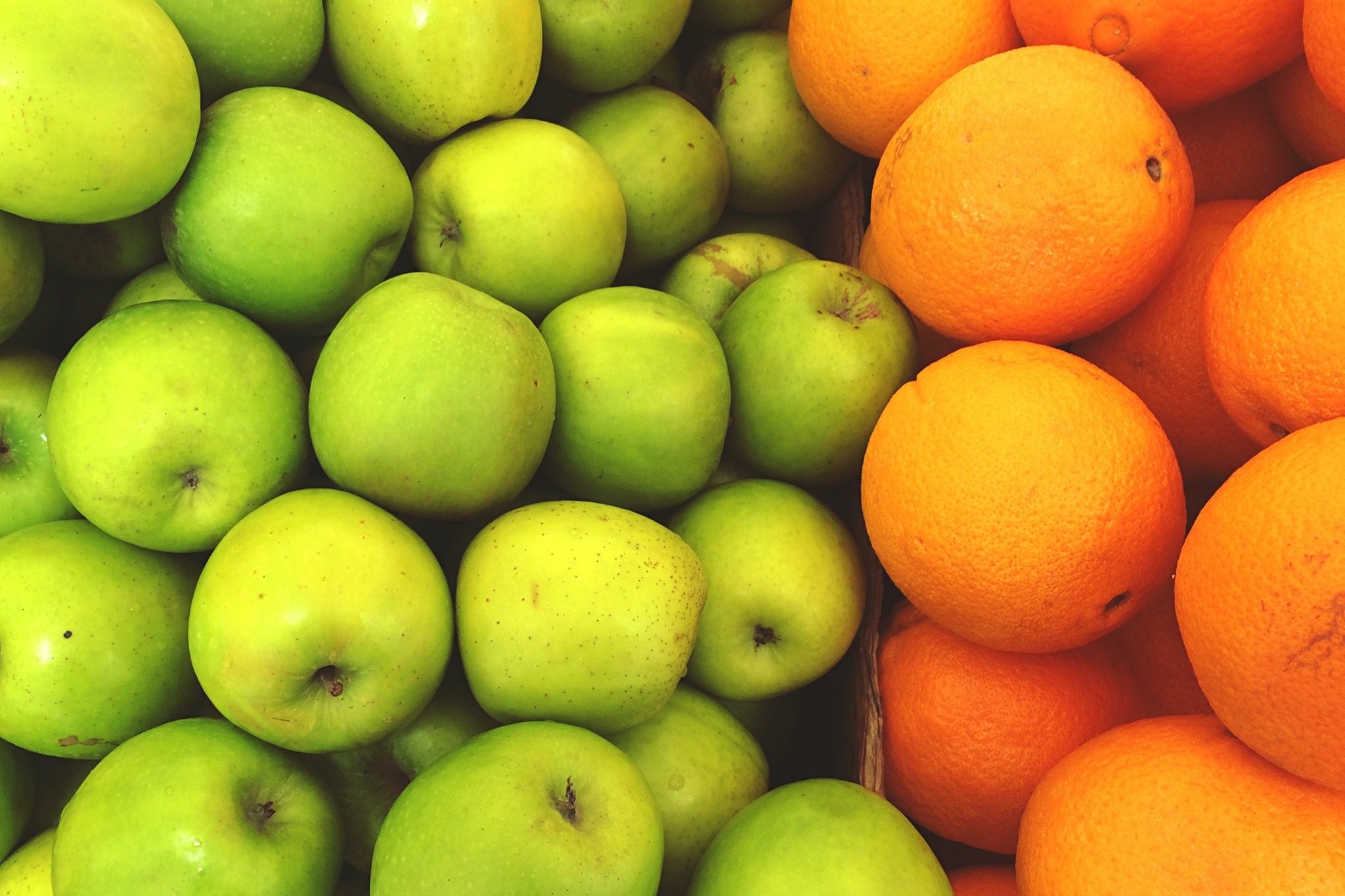 On Monday my faithful companion, my Apple MacBook Pro laptop (purchased in April 2015), threw a wobbly. Specifically, the display had moving horizontal blocks and shudders. Not what the doctor had ordered and while I could still just about use it, the situation was far from ideal.
To resolve this annoying issue, I turned first to Mister Google who threw up a few helpful suggestions which I tried but they didn't make any difference. I then chatted online to Apple Support Person who was incredibly helpful, managed to isolate the issue and book me an appointment the following morning at my nearest Apple shop in Cap 3000.He said I was his favourite customer of the day to which I replied:
I bet you say that to all the girls!
In any event our short, relevant and useful exchange earned him high marks in the subsequent survey. But, why oh why does every interaction these days require a survey?
The following morning, I turned up at the appointed hour and, within nano seconds, the guy manning the Genius Bar confirmed the support line guy's diagnosis. My beloved, who like most men is like a child let loose in a sweet shop (candy store) in Apple, was making lots of noises about buying a new laptop with a large screen.
I ignored his entreaties and signed up to have my display screen replaced. A mere €600 rather than at least 3 times that! Since 2003, this is only my third laptop – one careful lady owner. I won't reveal how many my beloved has gotten through. In the two previous cases (both Dell) I only gave up on them once they were past redemption. Indeed, the second Dell and this Mac overlapped for a few years. I had acquired the Apple specifically to facilitate my book editing.
I left my trusty Mac with Apple and returned home to find a confirmatory email that said Mac was already speeding to Apple's European repair centre in the Czech Republic.
Without it ever being too obtrusive, I received regular updates from Apple confirming my Mac's safe arrival, its swift repair and impending return! Thursday morning I received an email from DHL confirming Return of the Mac – sorry, I couldn't resist that! Later that afternoon it arrived, beautifully and carefully packaged.
I'd like to suggest that Amazon gets Apple's packers to give its staff lessons in how to properly pack stuff.
I unpacked my Mac, attached its battery pack, switched it on and voilà, I was back in business just over 48 hours  after first reporting the problem to Apple which I'd call pretty excellent customer service.
Now, let's compare this experience with the one I endured a few years ago with Orange…………