The Musette: Allium Panade
To be honest this is a fancy name for a dish that I regularly make for my beloved with leftovers. The combination of simmering stock, Gruyere cheese, onions, garlic, chives and sourdough combine into a decadent pot of winter magic. Think French onion soup but better!
Now I am aware that in the Northern Hemisphere thoughts are turning to spring recipes but a cold snap is not unheard of in April. While, in the Southern Hemisphere, it's positively autumnal.
It's a dish where the sum of the parts is very much greater than its individual ingredients!
Ingredients (serves 8)
340g (12

oz) 

day-old artisan-style sourdough

120ml (1/2

cup)

extra-virgin olive oil

sea salt, to taste

1kg (2

 lbs) 

thinly sliced yellow onions

7

 fat 

cloves

garlic, minced

1.2lts (5

cups)

 vegetable stock

150g (1 1/2

cups)

thinly sliced spring onions (scallions)

225g (8

oz)

 

grated Gruyere cheese, or similar

15g (1/3

cup)

chives, finely chopped
Method
1.Cut or tear sourdough into rough 3cm (1inch) cubes and set aside.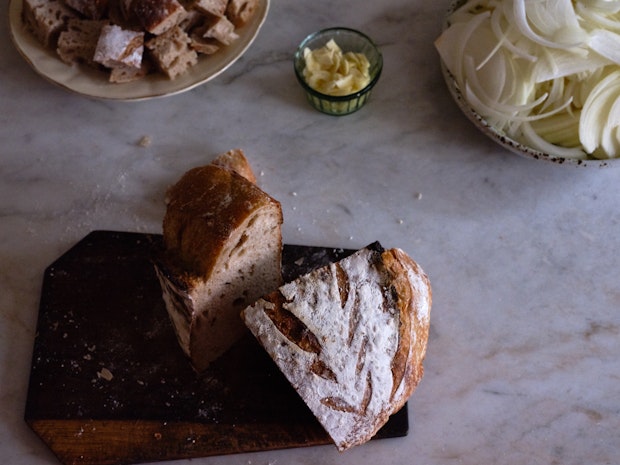 2. To caramelise the onions use a large frying pan (skillet). Heat 60ml (1/4 cup) olive oil over a medium heat, add the onions with 2 tsp sea salt and leave them to cook down, stirring from time to time. I like to let them get super jammy, with plenty of colour, but not-at all burned. This can take around 40 minutes.
3. Once the onions are done, reduce the heat to low and stir in the garlic. Cook until soft, 5-6 minutes. Set aside.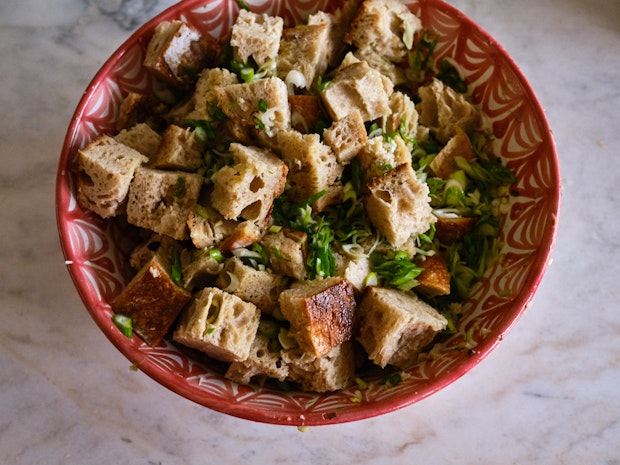 4. Preheat the oven to 160C/ fan140C/325F/ gas mark 3.  Place the bread cubes in a large bowl drizzle with 2 tbsp olive oil and 120ml (1/2 cup) stock.  Add most of the scallions and a few pinches of salt. Use clean hands to toss and gently squeeze the bread cubes until evenly moist. Set aside.
5. Choose a large oven-proof casserole (dutch oven) or cast-iron pan or pot. Assemble the panade in layers. Start with a layer of onions, followed by a loose layer of bread cubes, another layer of onions, and then a layer of grated cheese. Repeat: bread, onions, cheese, until you've reached the top of your pan. Aim for 2-3 layers of each component, packing down with a bit of pressure if needed. The top layer should have some of everything. Add a finishing sprinkle of the remaining spring onions (scallions) and the chives. Drizzle with remaining olive oil.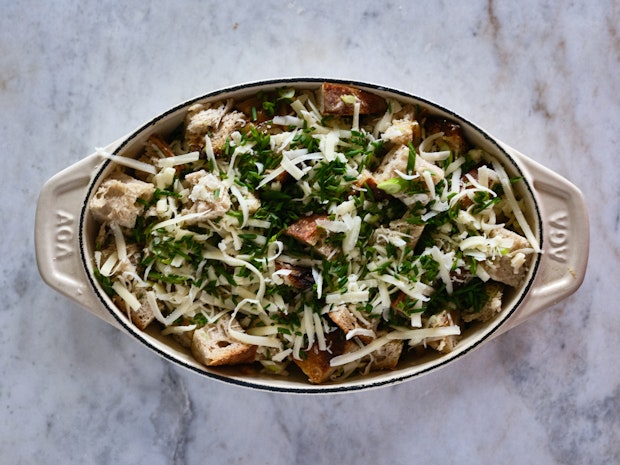 6. Bring the remaining stock to a simmer and taste for seasoning, it should taste good enough to drink. Pour it slowly over the panade, in doses, around the edges until it comes up nearly to the rim. Let it sit for a minute, allowing the bread to absorb the stock. If needed, add more.
7. To bake the panade, cover with a layer of greaseproof (parchment) paper, then loosely wrap the top and sides of the pan with foil. Place the casserole on a baking sheet to catch any drips just in case it bubbles over.
8. Bake for about an hour, before having a look. Baking time will actually depend on your pan and oven – it may take longer. At this point the top should be getting a bit golden around the edges. If not, bake for longer.
9. Once the edges are golden, uncover the panade,  increase oven temperature to 190C/fan 170C/375F/ gas mark 5, and bake until beautiful and golden on top, another 15-25 minutes.
10. If you're not ready to serve, re-cover the panade, reduce the oven temperature back to 130C/fan 110C/250F/ gas mark 1, and you can hold it there for a half an hour or so without issue. You can always test the panade. Basically you want to avoid dryness. Your panade should be silky and unctuous. If it seems a bit on the dry side you can add more hot broth a few tablespoons at a time and serve when ready.
11. Serve in pan after allowing it to rest for 10 minutes or so outside the oven.