The Musette: Candied Walnuts
Caramelised and toasted, these crunchy candied walnuts use brown sugar and spices to deliver the perfect snack or topping. They have a knack for making salads, popcorn, crumbles and cheese plates extra special. Once you nail down a great base recipe and technique for candied walnuts you can tweak them a thousand different ways with different spices, herbs and flavours.
Ingredients
140g (1 cup) brown sugar

1

tsp

 

fine grain sea salt

2

tsp

 

favourite curry powder (optional)

Zest of one organic lemon 

2

large organic egg whites

500g (

4 cups) shelled walnut halves
Method
1. Preheat oven with racks in the centre to150C/130C fan/ 300F / Gas mark 2. Line two baking sheets with greaseproof (parchment) paper.
2. In a small bowl, combine the brown sugar, salt, curry powder and lemon zest.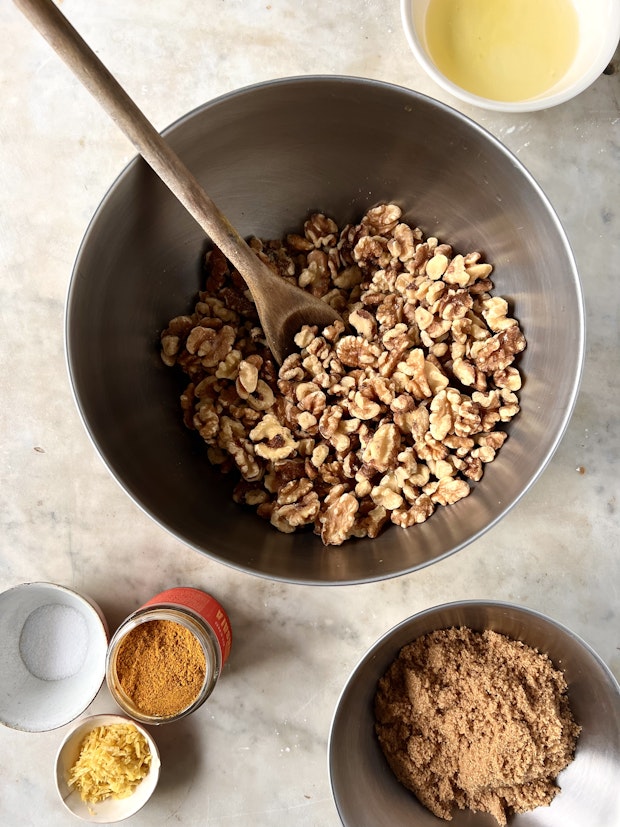 3. In a large bowl whisk the egg whites a bit, just to loosen them up. Add the walnuts to the whites and toss until they are evenly coated – it'll take a minute or so. Sprinkle the sugar-spice mixture over the nuts and toss (really well) again, another minute or so.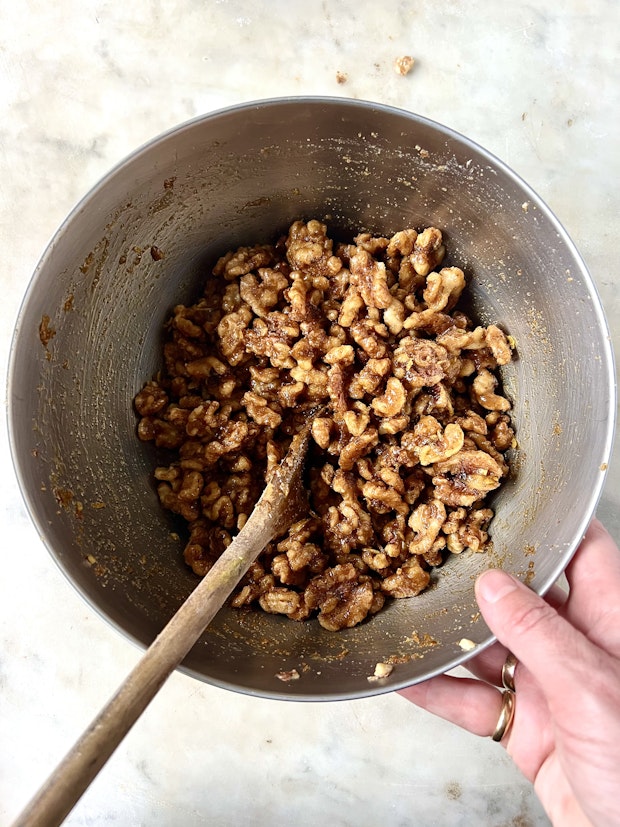 4. Split the nuts between the two prepared baking sheets in a single layer, separating them the best you can.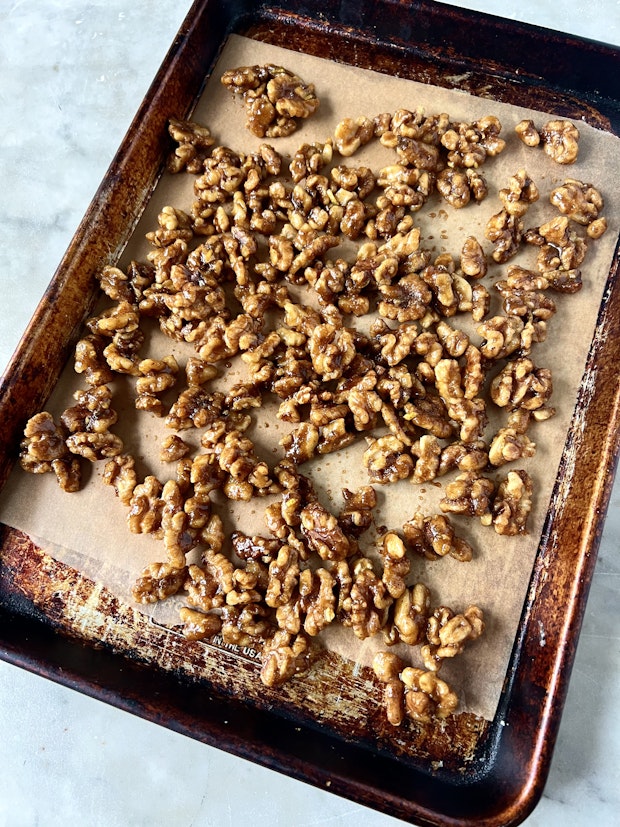 5. Bake for 25-35 minutes or until the walnuts are toasted golden and the coating is hard and dry. The walnuts and coating should be deeply golden where they touch the pan. Remove from oven.
6. Cool for ten minutes on the pan. Slide the parchment/nuts off the hot baking sheets onto a rack to cool completely.
7. When completely cooled, store in an air-tight container for up to a few weeks. They can also be stored in the freezer for up to a few months.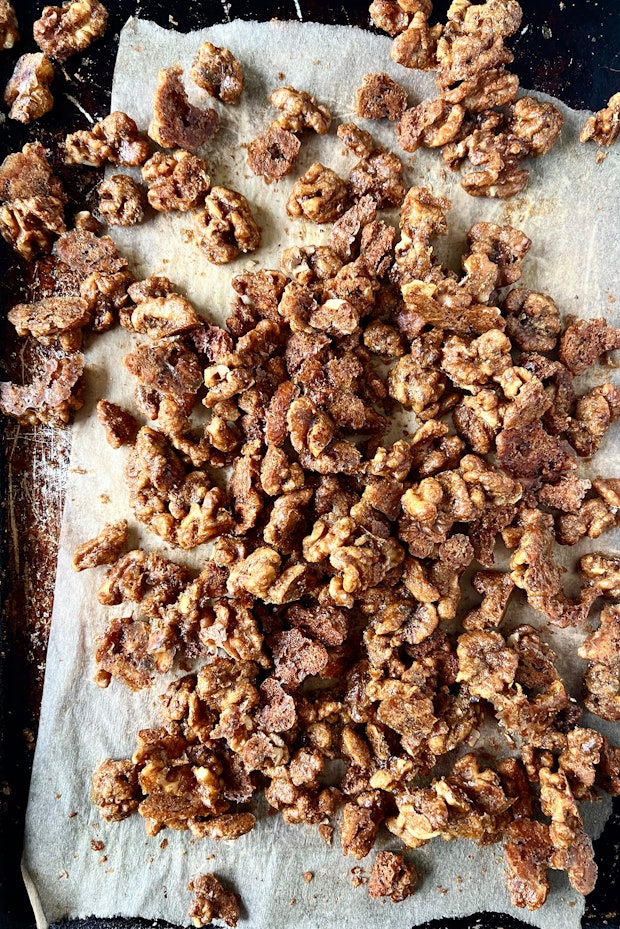 Sheree's Handy Hints
1.To fully coat the walnuts stir them twice for minutes at a time. Once to initially coat them with the egg whites. And again to coat them in the brown sugar mixture.
2. Try to separate the walnuts so they don't bake into clumps on the baking sheets and avoid under-baking. The sugar coating should be nice and deeply golden at the edges, where the coating touches the pan. You need to bake long enough that the sugars bake and will be snappy once cooled.
3. To make them vegan, switch the egg whites for similar amount of aquafaba.
4. There are endless ways to switch things up here. How about……..
Experiment with seasonings and spice blends. If it's good in a cookie or pie, it will likely be good here. Think gingerbread spices, pumpkin pie spice……
Try an alternative nut. Pecans are a great substitute. Or a mix of walnuts, pecans and hazelnuts. I also like to throw some sliced almonds (skins on) into the mix.
Add some dried or freeze dried fruit such as chopped figs or dates.
Halve the amount of brown sugar for a less sweet version.
Add 2 tbsp finely ground espresso powder to the brown sugar and skip the curry powder.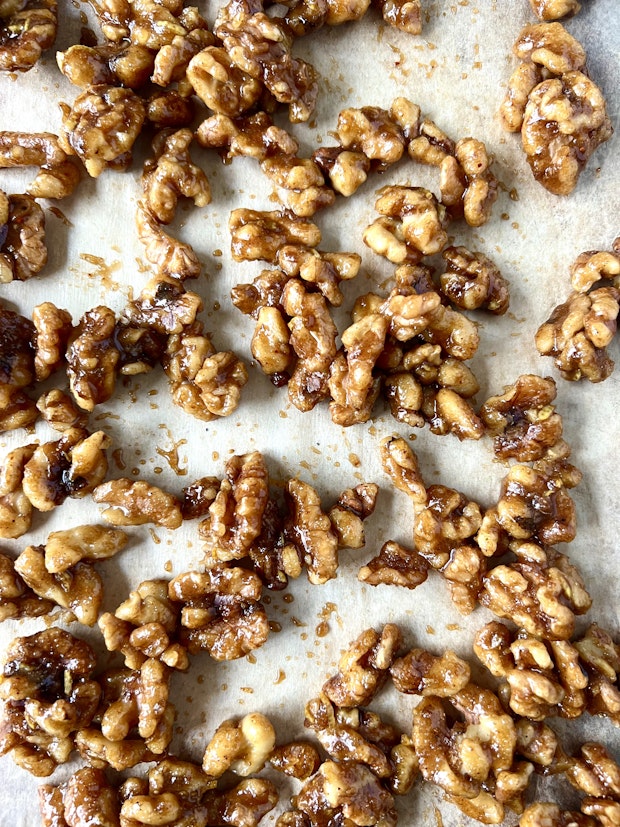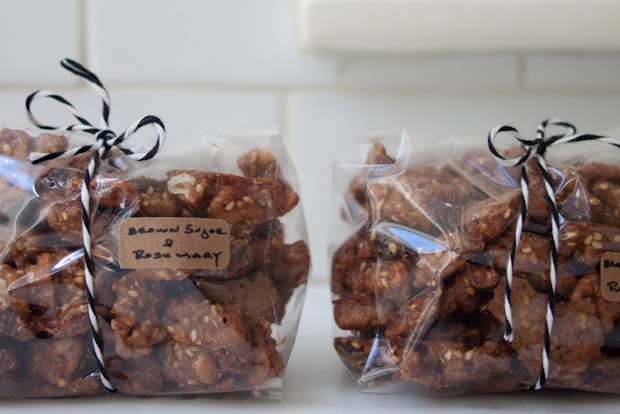 The recipe makes a 500g (1lb) batch, so you'll have plenty to share or just keep on hand. Here's a photo of little baggies filled with candied walnuts accented with rosemary and lots of sesame seeds. So tasty. Enjoy!