The Musette: White Bean Soup
This is the sort of soup I crave when the weather turns. Hearty, substantial, and squarely in the realm of comfort food. It's the simplest of bean soups, topped with plump herb-packed dumplings. I use whatever herbs I have to hand, along with lots of spring onions (scallions). Amping up the herb flavours, I also add a big dollop of pesto. A classic dumpling stew with a green, herby twist. Super delicious, and satisfying – the perfect dinner.
To make this soup vegan, omit the egg in the dumpling, and bump the almond milk up to 300ml (1 1/4 cup). The dumplings won't be quite as tender, but they will still be good. You can also make this soup with  mustard or harissa accented dumplings. Just omit the pesto, and use either 1 tablespoon Dijon-style mustard, or 2 tablespoons harissa paste.
Ingredients (serves 6)
White Bean Soup:
1

large onion, peeled and finely diced

2

carrots, peeled and diced

3

tbsp

extra-virgin olive oil

1

tsp

 

caraway seeds, lightly crushed (optional)

1.2lts (5

cups)

 water or vegetable broth

1

tsp

 

fine grain sea salt, or to taste

800g (28 oz) cooked 

cannellini beans
Pesto Herb Dumplings:
240ml (1

cup)

 plant-based 

milk (or whatever milk you like)

1

 large organic 

egg

2

tbsp 

pesto

handful (1 

cup)

chopped fresh herbs and spring onions (scallions), plus more for serving

200g (1 1/2

cups)

whole wheat flour

2

tsp 

baking powder

1/2

tsp

 

fine sea salt
Method
1. In a large, wide saucepan sauté the onions and carrots in the olive oil over medium high heat until the onions are translucent and the carrots tender, approx. 15 minutes. Stir in the caraway seeds, if using, and allow to cook for another minute or so.
2. Mash half the beans to thicken the soup and add all the beans plus water/stock, salt and bring to a gentle simmer, while you make the dumplings.
2. In a mixing bowl, combine the almond milk, egg and pesto, whisk well, until uniform, then add the herbs. In another mixing bowl whisk together the flour, baking powder and salt. Pour the wet ingredients into the dry, then stir with a large fork until just combined. Do not overmix.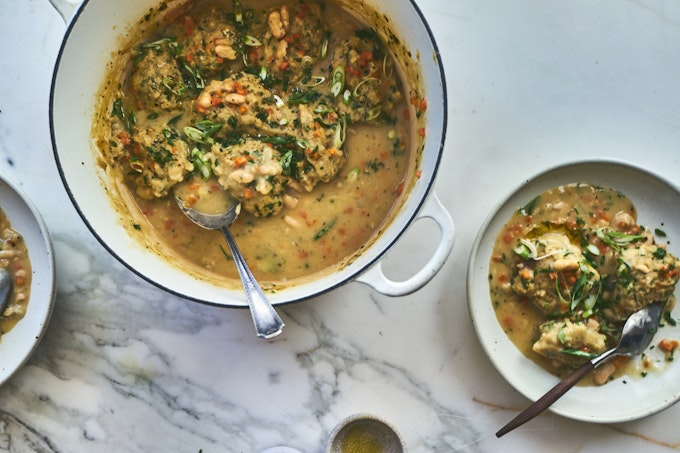 3. Drop generous tablespoons of this dumpling mixture into the gently simmering soup. Resist the urge to make the dumplings larger than this, they will definitely blossom in size. It's fine if the dumplings are touching. Cover and cook for 10 minutes or so. Use a big spoon to flip each dumpling, and cook for another 5 minutes, or until cooked through. Serve hot, topped with more chopped herbs and scallions.