The House(s) of Givency
While I was researching tomorrow's post, I noted that Christie's auction house had recently disposed of Hubert de Givency's truly splendid main residence (pictured below) and its wonderful contents. So I thought I would take a closer look at the famous designer too.
The couturier famously said:
Like in great painting and architecture, in couture, to make clothes you must eliminate, eliminate, eliminate to obtain the true sense of a line. You see, the more you add, the more you load on, the more it's mad. You must try to have just the silhouette, which is an intelligence in clothes
A French-Venetian aristocrat and the youngest son of a marquis, Hubert James Marcel Taffin de Givenchy (1927-2018) was undoubtedly dealt a lucky hand in life. Standing 1 metre 92 (6ft 6in) tall, and with an air of regality and grace, the designer was a giant of Parisian haute couture in every sense. Known affectionately amongst the fashion cognoscenti as Le Grand Hubert — he towered over his peers both physically and metaphorically, with many considering his designs to be ahead of the pack in terms of their extreme elegance and sophistication.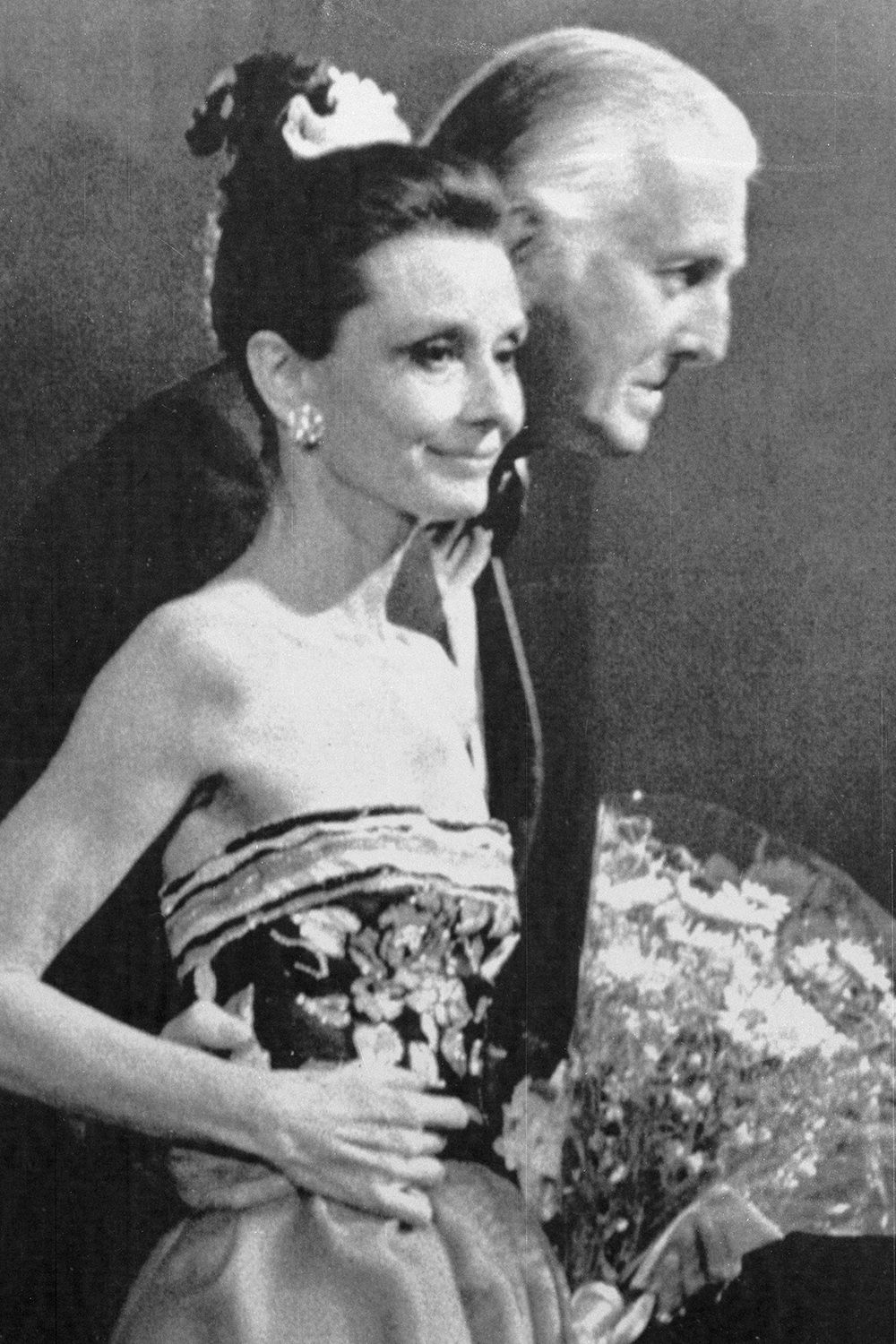 A master of le grand goût français, Givenchy is remembered as much today for his extraordinary couture creations, as for his relationship with close friend and constant muse Audrey Hepburn (1929-1993). A designer who believed "the classical never meant boring", his clothes represented a golden age of elegance, with his understated sense of style defining the way in which a generation of women aspired to look and dress.
Born in 1927 in Beauvais, north of Paris, to an old Protestant family, Givenchy's father died when he was two. His maternal grandfather, Jules Badin, was an artist and director of the Gobelins and Beauvais tapestry factories, and instilled in his grandson a passion for textiles.
Family legend has it that after running away from home at the age of ten, in a failed attempt to track down his icon, Spanish couturier Cristóbal Balenciaga (1895-1972), so as to show him his designs, Givenchy persuaded his mother, Béatrice, to abandon her plans for him to become a lawyer, and to allow him instead to enrol at the prestigious École des Beaux-Arts.
After graduating he set out to work for those he idolised and admired, and naturally, his first stop was Balenciaga's salon; but having been rejected by the establishment's sharp-tongued directrice, Mademoiselle Renée, he turned instead to Jacques Fath, which at the time was arguably the most "fashionable" house in Paris.
Between his time at Fath in 1945 and opening his namesake couture house in 1952, Givenchy worked with a number of other designers including Elsa Schiaparelli (1890-1973); where he was allowed total creative freedom, meeting clients such as the Duchess of Windsor (1896-1986) who would remain faithful after he left to embark on a solo career, launching a collection of "separates", he described as "luxury ready-to-wear", and beginning what would become a four-decade-long journey.

The elegant exterior of Hôtel d'Orrouer, on Rue de Grenelle, built in 1732 in the regency style, it perfectly reflected the tastes of its illustrious occupant 

In the petit salon of the hotel d'Orrouer, Picasso's "Faun With a Spear" (1947) is flanked by Antoni Tàpies's "Sans Titre" (1977) and Picasso's "Faunes et Tête de Femme" (1946) 
Heavily influenced by the structured, architectural style of Balenciaga, much like his "master", Givenchy believed less was more when it came to fashion design, preferring simple, stylish cuts to the overly decorated or ostentatious. He was part of a progressive generation of designers that — at a time when tightly fitted bodices were still widely used in Parisian haute couture — innovated fashion by making practicality and comfort key.
Arguably, the key to the couturier's success came in 1953 when, expecting the great Katharine Hepburn (1907-2003) to turn up at his atelier for a fitting, he was instead greeted by the gamine, and then relatively unknown actress Audrey Hepburn. He would go on to design the clothes that defined her character in such iconic films as Sabrina (1954), Funny Face (1957) and Breakfast at Tiffany's (1961).
Then out of the blue in 1968, and much to the shock of his long-term clients, Balenciaga closed his house, and directed one of his long-term clients, Bunny Mellon (1910 – 2014), to Givenchy. This move transformed the young couturier's life. Not only did he gain a loyal client who became a lifelong friend and supporter, he also found in her a source of inspiration, a Leitmotif he relied on in many of his decisions regarding interior design. Her elegant understated style is particularly evident at his county home, the Renaissance architectural jewel, Le Jonchet.
Three decades later in November 1998, Givenchy would also retire from fashion, handing over his label to luxury goods conglomerate LVMH, and focusing on his other great loves: art and design. 
Over seventy years the famed French designer, along with his life partner Philippe Venet (1929-2021), created the most extraordinary collection which embraced all eras and disciplines. Favouring chiefly modern art, they also loved exquisite 18th century furniture of the sort that had fallen out of favour.
Givenchy was perhaps unique in the way in which he was able to balance pomp and splendour with practicality and comfort, and with typical French insouciance, a sculpture by Jacques Lipchitz (1891-1973), or a writing desk made for Louis XIV might be displayed alongside a white sofa covered in dog hair.
Givenchy acquired several magnificent residences, including the hôtel d'Orrouer on rue de Grenelle, Paris, the Manoir du Jonchet, Clos Fiorentina in St Jean Cap Ferrat (which Givenchy had always admired and the subject of tomorrow's post), a chalet in Megève (technically he found the chalet in Switzerland and the view in Megève, buying several hectares of land, and rebuilding the chalet with a view of Mont Blanc) and an apartment at the Carlyle Hotel in New York. Although grandiose, these interiors were always welcoming, comfortable and imbued with a gentle tranquillity.
The imposing, neoclassical architecture of the hôtel d'Orrouer (also known as the hôtel de Bauffremont), at 87 rue de Grenelle, Paris, was no exception; built in 1732 in the regence style, with its immaculate front door, lacquered dark green, it perfectly reflected the tastes of its illustrious occupant — in the sense of his favouring something of a pared-back, refined grandeur, rigorous and restrained.
One of the most spectacular private homes in Paris, Givenchy had long had his eye on the building, and when in 1986 his close friend and fellow collector Susan Gutfreund (who according to a somewhat uncharitable article in Vanity Fair in 1991, spent money like it was flowing from a faucet), offered to sell him the second floor, he snapped at the opportunity, meticulously restoring its interiors over a period of seven years, before acquiring the ground floor when it later became available.
Yet despite the effort Givenchy put into the decoration of the hôtel d'Orrouer, it was his beloved Manoir du Jonchet, acquired in 1975, in the woods of the Touraine countryside, surrounded by a moat and looking onto gardens and the Aigre River, that was the project closest to his heart. Givenchy would never grow tired of what he called the noble simplicité of this exceptional building. His sense of scale was masterly, creating two enormous ateliers, with strong, simple furniture, Louis XIII and early Louis XIV (but again, with loose linen slipcovers, so as to soften their inherent formality), feather-filled white sofas — which were incredibly comfortable and light flooding in through floor-to-ceiling windows on both sides.
Paradoxically, despite the scale and ambition of Givenchy's homes, there was a certain modesty to his aesthetic, a beguiling mix of strength, simplicity and grandeur — and much like his work in fashion, his interiors defined what beauty meant to him.
All images courtesy of Christie's images limited, François Halard