Designer Eileen Gray's E-1027 modernist seminal modern home in the south of France, and Le Corbusier's holiday home Cabanon next to it, reopened recently following a five-year renovation managed by the Association Cap Moderne which has  returned it to the state it was in when it was first completed in 1929.
Association Cap Moderne president Michael Likierman said:
The restoration of the Villa to its 1929 state has been a labour of love for all of us who have worked on the project.The refurbishment showcases the genius of Eileen Gray and provides a marvellously dynamic contrast with the surprisingly intimate buildings of Le Corbusier nearby. It's magical and unique………
One of the most significant international-style houses, E-1027 was the first major architectural projects designed by Irish architect Gray, in collaboration with her partner at the time, Romanian architect Jean Badovici, who owned the house.
The home's name is a reference to the Gray and Badovici names. E stands for Eileen, with the couple's initials – J, B and G – signified by their alphabetical positions – 10, 2 and 7.
The villa — essentially a white rectangle perched upon the Cap-Martin cliff face— is clearly a Modernist building. It adopts some aspects of Le Corbusier's five points of new architecture (concrete piles, open plan rooms, a roof garden, horizontal windows and a "free" facade) which the Swiss-French architect had published in his seminal 1923 book Vers Une Architecture.
However, despite Corbusier's call for openness within and without, privacy is the main objective of E-1027. On the exterior, floor-to-ceiling concertina windows open to the Mediterranean Sea, providing light and views, yet rolling shutters and two strips of canvas shield the villa's interiors from being seen, thereby also blocking harsh afternoon sunlight and framing the seaside vista.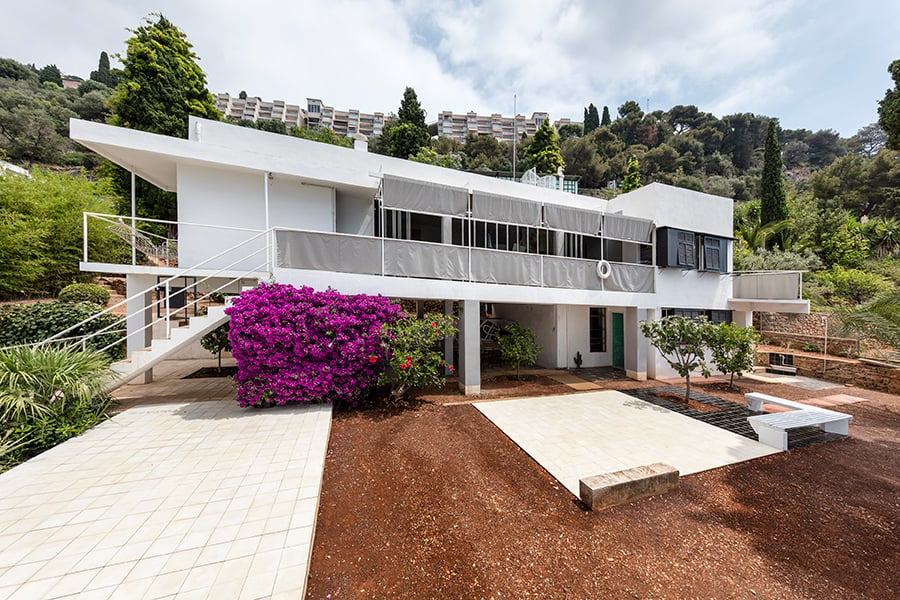 Inside, the house refrains from using an open plan. Its interior spaces aren't immediately revealed. Rooms are private places waiting to be discovered. Entering either the bedroom or living room-cum-boudoir, for example, requires walking around a series of corners. Furthermore, given the house's compact size 140 sq m (1,400 sq ft) and many rooms, Gray was meticulously efficient with space. Such constraints, as is commonly the case, led to delightfully innovative workarounds: wardrobes open to become walls, the living room sofa turns into a bed, and a whole host of cupboards and other bespoke furnishings are either embedded or intrinsically in tune with the rest of the house.
The most prominent example of this ingenuity is the "E-1027 table." Designed for Gray's sister so she could eat breakfast in bed without getting crumbs in the sheets, it is a classic piece of Modernist furniture. The table comprises two steel tube circles whose open base fits around a bed post; the design's height is also adjustable so the table can hover over the bed.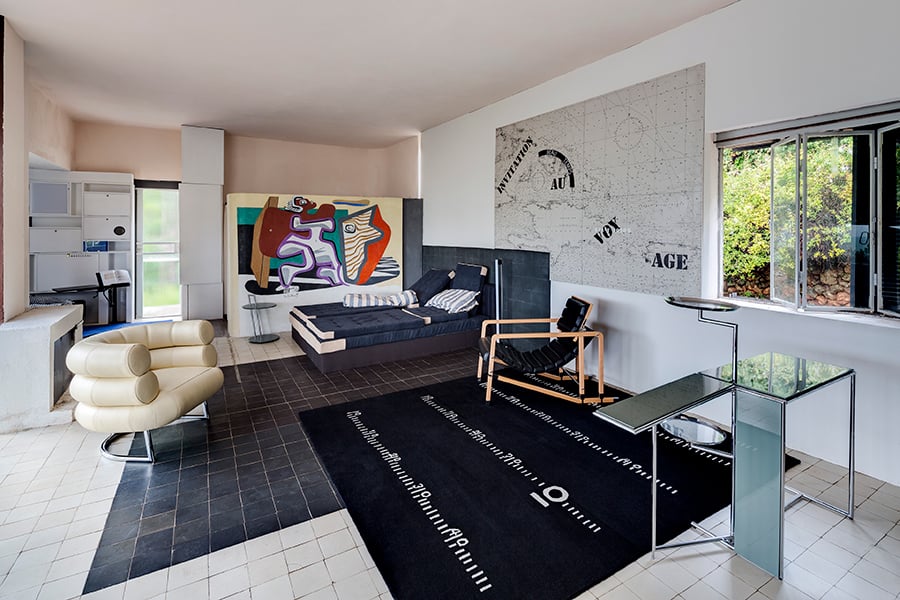 For all the work done by Gray, however, it took an essay by Joseph Rykwert in 1967 to bring her deserved recognition. Before that time, the house had been credited as entirely the work of Badovici and even Le Corbusier.
In fact, Le Corbusier was a good friend of Badovici's and was obsessed with E-1027. After Gray and Badovici split in 1932, Badovici inherited the house and often stayed there with his wife. Against Gray's wishes, Le Corbusier, while Bodovici's guest, painted murals on the walls. The French-Swiss architect even tried to buy the house but failed, instead purchasing property nearby where he built a small cabin, the Cabanon de vacances.
The houses' sorry tales continued during World War II when German soldiers used the E-1027's walls for target practice. Then, on 27 August, 1965, Le Corbusier's body washed up on the shores below, having drowned after going swimming contrary to his doctor's orders. Thereafter the house and surrounding area were declared a Site Moderne due to their international significance. Even that, however, didn't halt the villa's plight.
More tragedy was to follow. In 1980, E-1027's then-owner, Marie-Louise Schelbert was found dead in her flat in Zurich. Three days prior, her physician, Dr. Peter Kägi had secretly snuck almost all of Gray's original furniture out and auctioned it off in Zurich. When Schelbert died, Kägi inherited the house, using it to host an array of hedonistic affairs, notably drug-fuelled orgies. In 1996, this came to an end when he was murdered in the living room.
In 1999, the villa was bought by the Conservatoire du littoral (a cultural conservatory) and since then several efforts have been made to restore the house. The latest was by Cap Moderne, which was set up in 2014 to manage E-1027 as well as Le Corbusier's adjacent cabin.
Tim Benton, a trustee of Cap Moderne and art history professor specialising in 20th century architecture said:
We have taken the position, which is not fashionable in many conservation courses, to reconstruct [that] which had been destroyed to more or less the 1929 situation,.
The villa is one of 100 important houses of the late Modern period but the interior is one of the four most important modern interiors in the world. This why the furniture was remade using the same tools, the same materials, the same processes as the originals.
A team led by Claudia Devaux, Renaud Barrès, Burkhardt Rukschcio and Philippe Deliau carried out the restoration to recreate as closely as possible to what had been imagined and accomplished by Eileen Gray. A major part of the restoration included extensively reinforcing and repairing the concrete structure, which had been damaged by the sea air.
Alongside E-1027, the nearby seaside holiday cabin, and five holiday homes designed by Le Corbusier, have also reopened to the public. Named Cabanon and built in 1951, Le Corbusier's small cabin is UNESCO World Heritage-listed.
All images courtesy of Manuel Bougot.